Dan Ingram's 50th Anniversary
Rewound Radio
July 2 - July 4, 2011
Dan Ingram 50th Anniversary Message Board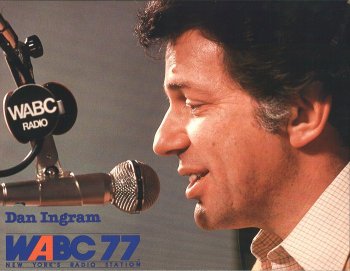 July 3, 2011. Fifty years to the day from Dan's official start at WABC. To some it's a fast fifty years. To others it's before they were born. For all, it's radio history. History that is both fun... and meaningful.
Here's a bit of that history:
In 1961, Dan was hitting ratings highs at WIL/St. Louis but left to work for a production company in New York known as "Mars Productions". New York was Dan's hometown so it wasn't long before he was looking for radio work. Ruth Meyer, program director of WMCA interviewed Dan for a job but Dan could not come to terms with general manager Steve Lubunski so a career with the "Good Guys" never happened. Ruth subsequently commented that Dan was "the one that got away".
Instead, Dan was hired at WABC by general manager Hal Neal. The story goes that Dan told Hal that he knew that he could do a better job than the current afternoon DJ. Neal was not necessarily looking for a replacement but Dan was persistent and guaranteed his prospective employer that he would have an audition tape on his desk the very next morning. Dan had a recording of WABC on file so he proceeded to dub himself into the aircheck. He spent that night working on it and delivered the tape to the WABC studios early the next morning.
Neal was so impressed by Dan's tape (as well as his punctuality in delivering it as promised) that he hired him. While Dan's official start date is listed as July 3, 1961 he actually did two WABC air shifts a couple of days earlier. To get acclimated to the studio he filled in for Chuck Dunaway on the late evening show on Friday, June 30 and again on July 1 commenting "This is the Chuck Dunaway show... but I'm not Chuck!".
Dan and WABC went on to set ratings records. With WABC's powerful AM 50,000 watt signal, Dan probably became the most imitated radio air personality of the Top 40 Era. His contemporaries copied him and future radio broadcasters were inspired by him. He commanded upwards of 20% of the afternoon radio audience in New York City for many years and programmers from around the country would come to New York to record his show.
WABC itself also became legendary. Its entire lineup was strong and, of course, the music of the time was a major reason. But, somehow, it was Dan's personality that gave the station that extra edge. His approach to radio was the perfect fit at WABC. His quick wit and ability to combine the many aspects of the format was amazing. It almost seemed that the more hectic the environment around him, the better he was. WABC and Dan were more than the sum of their individual parts.
But radio eventually changed. By the time of his 20th Anniversary Show in 1981, WABC was on the decline. The effect of FM and the fragmenting of music into multiple formats was hurting the AM radio giants. WABC became a talk station in 1982.
Dan was actually off the air for most of the 80's. He did a syndicated countdown show called "The Top 40 Satellite Survey" and reappeared briefly in afternoons at the original WKTU (92.3 FM) in the spring of 1985. He also appeared on WCBS-FM's "Reunion of the Rock and Roll Radio Greats" weekends in 1984 and 1989. But that was it.... until 1991.
Dan reappeared at New York oldies station WCBS-FM in October 1991 and remained there, playing oldies, until 2003. It was another great run. Dan played much of the music he had originally played as hits and continued to deliver big ratings.
Rewound Radio (http://rewoundradio.com) is celebrating the 50th Anniversary of Dan's arrival at WABC all July 4th holiday weekend. We have enough unedited Dan Ingram airchecks from both WABC and WCBS-FM to go the entire weekend without a repeat! It is yet another tribute to Dan that so many people recorded his shows over those years
And, we're going to add another level to this big radio party. We have a dedicated message board (yes, Dan knows about it) where you can send your congratulatory messages, comment on his career and share your own stories of how Dan inspired you, made you laugh or turned you into a radio junkie. So, not only will you be able to listen all weekend but you'll be able to join in at 77Dan.com.
Bookmark these sites: 77Dan.com and RewoundRadio.com.
It's "where the action is" this coming July 4 holiday weekend!