Yearly
1960
1961
1962
1963
1964
1965
1966
1967
1968
1969
1970
1971
1972
1973
1974
1975
1976
1977
1978
1979
1980
1981
1982
Weekly
1960
1961
1962
1963
1964
1965
1966
1967
1968
1969
1970
1971
1972
1973
1974
1975
1976
1977
1978
1979
1980
1981
1982

Previous Years
1998
1999
2000
2001
2002
2003
2004
2005
2006
2007
2008
2009
2010
2011
2012
2013
2014
2015
2016


Others
WMCA
WMGM
Alaska Jim
Z 100 Charts
Links
Oldies Board
NYRMB
Musicradio WABC
Good Guys WMCA
WOR-FM
Rewound Radio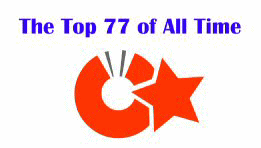 VoteTop77.com
The voting is done...

We're tabulating the results!
This year's Top 77 will be revealed on
Rewound Radio December 26th and posted to The Oldies Message Board
between Christmas and New Years.
The Top 77 plus hundreds of other songs that also got votes
will be featured all Holiday Week on Rewound Radio!
Stay tuned!