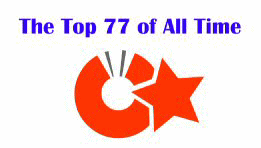 Hundreds of voters...

Thousands of votes...
24 Years of Compiling YOUR Favorite Songs!
Here's the 2021 Edition of the Top 77 of All-Time…
Voted by YOU from November 1 through December 6, 2021
With Each Voter Choosing Up to Ten Favorite Songs!
LET'S START WITH THE SONGS THAT JUST MISSED THE TOP 77…
AND As a Special Bonus, We're Including Last Year's Positions for the First Time!
Asterisk (*) Indicates Former #1 Song Nationally or on WABC Radio, New York
For the Top 77 portion of the list, "Top 77" refers to the number of years and peak number for the song on the Top 77
(Unless otherwise noted, chart info is based on national chart information)
2021 Rank/2020 Rank/Title/Artist/Year
100
308
When I Grow Up (To Be a Man)-Beach Boys-1964
99
274
Moonlight Feels Right
-Starbuck-1976
98
124
*Honky Tonk Women-Rolling Stones-1969
97
39
Da Doo Ron Ron (When He Walked Me Home)-Crystals-1963
96
155
Sloop John B-Beach Boys-1966
95
86
Day After Day-Badfinger-1972
94
52
Time Won't Let Me-Outsiders-1966
93
30
Mr. Dieingly Sad-Critters-1966
92
104
*He's A Rebel-Crystals-1962
91
56
Because-Dave Clark Five-1964
90
84
*Close To You-Carpenters-1970
89
75
*Downtown-Petula Clark-1965
88
321
I'm Not in Love-10cc-1975
87
300
*The Tears of a Clown-Smokey Robinson & Miracles-1970
86
160
Summer Wind-Frank Sinatra-1966
85
445
What A Wonderful World-Louis Armstrong-1988
84
278
The Boxer-Simon and Garfunkel-1969
83
41
*My Sweet Lord-George Harrison-1971
82
208
Baker Street-Gerry Rafferty-1978
81
96
*Crystal Blue Persuasion-Tommy James and the Shondells-1969
80
91
Ariel-Dean Friedman-1977
79
136
Elusive Butterfly-Bob Lind-1966
78
50
*Dreams-Fleetwood Mac-1977
And Now for the Top 77 Songs AS YOU VOTED FOR THEM! WITH SPECIAL "BETWEEN THE GROOVES" NOTES AFTER EACH SONG TO GIVE YOU SOME "IN
SIDE INFORMATION" ON EACH HIT'S RECORDING DETAILS!
2021 Rank/2020 Rank/Title/Artist/Year
77
77
Don't Worry Baby/Beach Boys/1964, Top 77- 7 times, Peak #10
Brian Wilson wrote this as an "answer" song to The Ronettes' big hit. Didn't you ever notice that the opening drums essentially copy the opening drums on "Be My Baby"?
76
--
*Get Back/Beatles/1969, Top 77- 1 time, Peak #76
On the LP introduction to the song, John says, "Sweet Loretta Fart she thought she was a cleaner, but she was a frying pan"...just in case you wondered.
75
36
*Stoned Soul Picnic/5
th
Dimension/1968, Top 77 – 9 times, Peak #36
"Surry"? It's a nonsense word. Writer Laura Nyro used it simply because it sounded nice..."surry down"...but it meant nothing.
74
130
*Stayin' Alive/Bee Gees/1978, Top 77 - 5 times, Peak #44
So you think this sounds like "Night Fever"? There's a good reason why...The backing drummer Dennis Bryon left during the session due to his mother's death. So, The Bee Gees listened to the drum track of the already-recorded "Night Fever" and took two bars from that track and re-recorded them as a loop on a separate tape for THIS song!
73
254
*I'm A Believer/Monkees/1966, Top 77 – 1 time, Peak #73
Listen carefully! That's Neil Diamond on acoustic guitar on this song he wrote and first offered to "Ding Dong, the Witch Is Dead" singers The Fifth Estate!
72
82
*Groovin'/Young Rascals/1967, Top 77 – 5 times, Peak #43
Ever notice there's no drumming on this record? In fact, label heads didn't originally want to release the record because it had no drumming. It took DJ Murray the K to convince them otherwise.
71
153
Imagine/John Lennon/1971, Top 77 – 23 times, Peak #6
Most Apple record labels credit "John Lennon Plastic Ono Band" as the artist. The recording required just Lennon's vocals and piano, plus bass and drums. Strings were overdubbed later. George Harrison was there, but didn't play. I wonder if that's why the Philippine copies of the 45 credited the song to "The Beatles Featuring John Lennon"!
70
54
*Daydream Believer/Monkees/1967, Top 77 – 11 times, Peak #54
I bet you never realized that the orchestral arrangement, created by jazz trumpeter and composer Shorty Rogers, uses the exact same seven-note phrase he used preceding the chorus on the Beach Boys' "Help Me, Rhonda."
69
114
Please Please Me/Beatles/1964, Top 77 – 6 times, Peak #47
This simple little song was not so simple to record. It took 12 takes, and there are four edits from those takes that made up the final record.
68
76
*Poor Side of Town/Johnny Rivers/1966, Top 77 – 2 times, Peak #68
That's Darlene Love and The Blossoms backing up Johnny and the music is courtesy of The Wrecking Crew.. And unless the song fades on the words "...with you by my side" at the ending, you are NOT hearing the original 45 rpm hit version.
67
164
Double Shot (Of My Baby's Love)/Swingin' Medallions/1966, Top 77 – 1 time, Peak #67
It sounds like a party, but it's not. The revelers you hear were random people pulled in off the street to make background noise and provide a party atmosphere. And if you're hearing "She kissed me so long and she kissed me so hard" (instead of "...loved me so long..."), then you're hearing the re-edited version meant to make the lyrics less "risqué".
66
62
*Incense And Peppermints/Strawberry Alarm Clock/1967, Top 77 – 21 times, Peak #12
The words used in the lyrics were taken from a "rhyming dictionary". And the lead singer on this wasn't even a member of the band. It was actually Greg Munford, a friend of the band, attending the recording session as a visitor.
65
102
Red Rubber Ball/Cyrkle/1966, Top 77 – 2 times, Peak #65
Cyrkle member Don Danneman recalls how it took a while to get the basic track down. Then, when they finally got to the take that they knew would be a keeper, Danneman missed a note on his FenderStrat guitar. But at that point, they just decided to leave the mistake in.
64
67
*It's Too Late/Carole King/1971, Top 77 – 7 times, Peak #11
Listen for Curtis Amy's sax-playing on this song. He also played sax on "Touch Me" by The Doors. And his wife, Merry Clayton, sang backup on this hit.
63
100
Here Comes the Sun/Beatles (From the "Abbey Road" LP/1969, Top 77 – 6 times, Peak #36
The session took place without John Lennon, who was recuperating from a car accident in Scotland. The other three members of The Beatles recorded 13 takes of the backing track in July 1969 on what was also Ringo Starr's 29th birthday.
62
53
*Yesterday/Beatles/1965, Top 77 – 18 times, Peak #24
First recording "˜Yesterday" on June 14, 1965, the band had just completed "I'm Down", thus going from one of their hardest and loudest releases to one of their softest. Paul McCartney recorded his guitar and vocals simultaneously in just two takes.
61
24
Morning Girl/Neon Philharmonic/1969, Top 77 - 8 times, Peak #24
Two men made up the group. Tuppy Saussy was the keyboardist, arranger and writer. Don Gant, produced recordings for Bobby Blue Bland, Jimmy Buffett, Gene and Debbe, Lefty Frizzell, Ferlin Husky, the Newbeats, and Eddie Raven. He sang on this recording, backed by a chamber-sized gathering of musicians from the Nashville Symphony Orchestra.
60
426
Wouldn't It Be Nice/Beach Boys/1966, Top 77 – 3 times, Peak #47
Brian Wilson recalls how Dennis sang cupping his hands to get just the right effect, Brian loved the "rocking accordions and the ethereal guitars in the introduction".
59
214
*The Long and Winding Road/Beatles/1970, Top 77 – 5 times, Peak #42
It was "the song that broke up The Beatles" in Paul's eyes...McCartney wrote it to be a bare bones ballad. Lennon never quite got it. His crude bass playing on this accidentally sabotaged the finished work when Phil Spector "fixed it" and overdubbed 18 violins, four violas, four cellos, a harp, three trumpets, three trombones, two guitarists and 14 singers. Paul hated it. And then told the other Beatles he was leaving the band.
58
68
Things I'd Like to Say/New Colony Six/1969, Top 77 – 5 times, #29
They originally patterned themselves as a more commercial, American garage-band version of Them and the Yardbirds. Listen to how the change in vocal harmony approach resulted in their first national hits.
57
65
Strawberry Fields Forever/Beatles/1967, Top 77 – 18 times, Peak #19
The Mellotron heard in this song was a fairly new keyboard instrument in 1966, which The Moody Blues' Mike Pinder had introduced The Beatles to in 1965.
56
243
You Belong to Me/Duprees/1962, Top 77 – 4 times, Peak #44
The hit version we heard in 1962 faded at the end. Through the years, an extended version with a cold ending has taken its place, but that extended version was not heard during the song's original chart run.
55
45
Since I Don't Have You/Skyliners/1959, Top 77 – 18 times, Peak #19
Although Janet Vogel's soprano on the final chorus and Jimmy Beaumont's repetition of the word "YOU" 12 times is memorial, almost no credit goes to the Lenny Martin Orchestra, who were responsible for the string and wind sections.
54
129
*A Hard Day's Night/Beatles/1964, Top 77 – 10 times, Peak #31
Yes, we all know Ringo came up with the odd title, but it wasn't the first time it was used. In Lennon's book "In His Own Write" from March, 1964, he wrote, "He'd had a hard day's night that day, for Michael was a Cocky Watchtower".
53
51
Superstar/Carpenters/1971, Top 77 – 3 times, Peak #25
If you thought you've always heard the finished product...well...you should rethink it. Since its first release, it's been "tweaked" and remixed over a dozen times.
52
31
*Suspicious Minds/Elvis Presley/1969, Top 77 – 16 times, Peak #20.
No, that weird fade at the end is not meant to simulate Elvis leaving the stage and returning for an encore, as has been rumored. Producer Felton Jarvis did it to spite the studio on what he felt was a substandard product. It was his way of "controlling" the situation. It failed, since the song became #1 in spite of the childish Jarvis.
51
55
*To Sir with Love/Lulu/1967, Top 77 – 14 times, Peak #24
Hardly ever given credit, listen for The Mindbenders backing up Lulu on this recording.
50
88
*Wedding Bell Blues/5th Dimension/1969, Top 77 – 6 times, Peak #18
-
Like so many of the 60s hits, the music came from members of The Wrecking Crew including Hal Blaine on drums, and Joe Osborn on bass.
49
234
*What's Going On/Marvin Gaye/1971, Top 77 – 7 times, Peak #28
-
Berry
Gordy hated this song. But Marvin Gaye refused to record another note for the company unless it was released. Interesting to note that Funk Brother James Jamerson was so intoxicated during the session that he kept falling off his stool, lying flat on his back to lay down the bass riffs.
48
37
In My Life (from the "Rubber Soul" LP)/Beatles/1966, Top 77 – 18 times, Peak #18
Although you may have never seen them, these are the original lyrics John wrote: "Penny Lane is one I'm missing, Up Church Road to the clock tower, In the circle of the Abbey, I have seen some happy hours, Past the tram sheds with no trams, On the 5 bus into town, Past the Dutch and St Columbus, To the Dockers Umbrella that they pulled down".
47
280
*I Get Around/Beach Boys/1964, Top 77 – 1 time, Peak #47
The instrumental track for "I Get Around" was recorded on April 2, 1964. During the session, producer Brian Wilson dismissed his father Murry as manager of The Beach Boys. The vocals were recorded during a session eight days later on April 10.
46
33
*I Can't Help Myself (Sugar Pie Honey Bunch)/Four Tops/1965, Top 77 – 16 times, Peak #17
The group never liked the track, from the lyrics to the vocal take selected. Lead singer Levi Stubbs thought it was too juvenile. In reality, the writers intentionally made the song almost identical to "Where Did Our Love Go" by The Supremes.
45
110
*Theme From A Summer Place/Percy Faith & His Orchestra/1960, Top 77 – 5 times, Peak #42
The single entered the Billboard Hot 100 singles chart at #96 on January 11, 1960. It climbed to number one in just six more weeks, going on to set an at-the-time record of nine consecutive weeks at number one for the "Hot 100", not broken until 1977, when "You Light Up My Life" by Debby Boone spent ten weeks at number one.
44
81
Walk Away Renee/Left Banke/1966, Top 77 – 7 times, Peak #28
Band member Michael Brown wrote this when he was only 16, inspired to use a French-sounding name in the title like The Beatles' "Michelle". Renee Fladen was in the control room when Brown attempted to record his harpsichord part. But he was so distracted by the beautiful Renee that he ended up recording it in a different session.
43
73
I Only Have Eyes for You/Flamingos/1959, Top 77 – 14 times, Peak #17
Jake Carey, the bass singer, was the shortest member of the group and couldn't reach the mike during the recording session. So, the guys put Jake on three or four phone books and that's how the song was recorded, with the background singers on one mike and the lead on another.
42
58
Thunder Road (from the "Born to Run" LP)/Bruce Springsteen/1975, Top 77 – 8 times, Peak #42
The vocal sound was inspired by Roy Orbison. Springsteen pays homage to him with the line: "The radio plays Roy Orbison singing for the lonely," a reference to Orbison's 1960 hit, "Only the Lonely."
41
59
*Happy Together/Turtles/1967, Top 77 – 7 times, Peak #35
You're hearing The Turtles playing their own instruments on this record. It's not a studio backup band, but that's only because their independent label, White Whale, could not afford LA session musicians to augment or replace them like other artists on bigger labels.
40
95
Up Up and Away/5th Dimension/1967, Top 77 – 2 times, Peak #40
Writer Jimmy Webb based the intro on the Association's "Along Comes Mary". And the line "...up, up and away"? You guessed it. That was inspired by Superman.
39
72
*One Less Bell to Answer/5th Dimension/1971, Top 77 – 6 times, Peak #24
Hal David originally wrote it as "one less spells the answer. One less egg to fry." HUH?
38
25
*Mack The Knife/Bobby Darin/1959, Top 77 – 21 times, Peak #2
Bobby told Ahmet Ertegun, founder of Atlantic Records, that he was going to do an album of standards. Ertegun thought he was crazy. And Bobby even surprised himself, stating about this monster hit, "Ya know I still can't believe it ...that the record made it to number one".
37
69
*Will You Love Me Tomorrow/Shirelles/1961, Top 77 – 16 times, Peak #21
Carole King wasn't even 19 when she wrote this with her husband Gerry Goffin after being commissioned to come up with a follow up for The Shirelles' "Tonight's the Night". So, they came up with what was really an "answer song" to a whole set of new questions.
36
42
Layla/Derek & the Dominos/1972, Top 77 – 20 times, Peak #22
Drummer Jim Gordon played the coda's piano part, tacking it onto the end of the song even though few thought it fit at first. It was actually written by his then-girlfriend Rita Coolidge, who called it "Time".
35
92
Born To Run/Bruce Springsteen/1975, Top 77 – 17 times, Peak #7
It was inspired by a classic instrumental...Let Bruce explain: "I'd been listening to the record 'Because They're Young' by Duane Eddy, and I'd been listening to quite a bit of Duane Eddy because I was into the twangy guitar sound at the moment".
34
21
*Let It Be/Beatles/1970, Top 77 – 23 times, Peak #4
Paul, his wife Linda, and George Harrison triple-tracked some high harmony vocals. Can you hear them?
33
66
Go All the Way/Raspberries/1972, Top 77 – 4 times, Peak #33
Singer/writer Eric Carmen, the leader of the group, said that the inspiration for the song was the Rolling Stones' hit, "Let's Spend the Night Together."
32
17
*Sugar Sugar/Archies/1969, Top 77 – 10 times, Peak #17
Don Kirschner wanted The Monkees to record it. Mike Nesmith refused and the group fired Kirschner. Kirschner responded by recording the song with the Archies, stating that The Archies wouldn't talk back to him. After all, they were a cartoon band! Kirschner got the last laugh. The Monkees never had another top ten song.
31
64
Cara Mia/Jay & the Americans/1965, Top 77 – 7 times, Peak #32
Jay Black brought the song to the group. Marty Sanders, the band's guitarist, was openly skeptical. "Man, that sounds old fashioned, like something from an opera. Don't really see it working for us." Sanders was wrong...obviously.
30
49
The Rain, the Park & Other Things/Cowsills/1967, Top 77 – 11 times, Peak #18
Writer Artie Kornfield explains why the title is not in the lyrics. "Scott McKenzie had a hit with 'If You're Going to San Francisco Be Sure to Wear Flowers in Your Hair'. My original title was 'The Flower Girl'. So as not to cause confusion with McKenzie's hit, I needed a title in the next hour. Out of nowhere, I chose '˜The Rain, the Park and Other Things'. Why, I have no idea!"
29
14
Like A Rolling Stone/Bob Dylan/1965, Top 77 – 22 times, Peak #12
Dylan called the song venomous and hateful. "When I got to the jugglers and the chrome horse and the princess on the steeple, it all just about got to be too much!" Al Kooper remembered that the fourth take of the song on June 16th was the version that was ultimately released, even though the group played it another 11 times. "They were all unusable because they were too fast," Kooper told Rolling Stone in an unpublished 2012 interview.
28
87
*Runaway/Del Shannon/1961, Top 77 – 16 times, Peak #17
-
Originally called "Little Runaway", the recording was sped up a pitch by the producer before the final product was released.
27
23
*California Dreamin'/Mamas and the Papas/1966, Top 77 – 13 times, Peak #17
Lou [Adler] told producer Bones Howe that they should have recorded 200 songs for the first album, because the groups' behavior got worse as they got more famous, rich and successful. This cut was actually meant for Barry McGuire ("Eve of Destruction").
26
18
Beginnings/Chicago/1971, Top 77 – 8 times, Peak #18
The song was the band's second single but failed to chart on its initial release. It was re-released in June 1971, backed with "Colour My World" and climbed to #7 on the Billboard Hot 100.
25
22
*Brandy (You're A Fine Girl)/Looking Glass/1972, Top 77 – 17 times, Peak #22
The band recorded the song seven times before they got it right.
24
28
*You've Lost That Lovin' Feelin'/Righteous Brothers/1965, Top 77 – 20 times, Peak #22
The lead vocals were done relatively quickly. The background singers were mainly The Blossoms. Bill Medley felt from the beginning that the recording was too focused on his voice, at the expense of his partner, Bobby Hatfield. Medley was ready to scratch the song altogether, but relented in the end.
23
48
Dawn (Go Away)/Four Seasons/1964, Top 77 – 17 times, Peak #19
Originally written as a folk song, the song was sped up at the suggestion of Frankie Valli, and a "galloping rhythm guitar" concept was borrowed from Kai Winding's version of "More". The single version, with a two-line sung introduction, was never recorded in true stereo. Later stereo issues include different takes of the recording with a short drum intro, a louder and more frantic drum backing, and slightly different vocals.
22
26
*She Loves You/Beatles/1964, Top 77 – 24 times, Peak #4
The Beatles recorded "˜She Loves You" five days after it was written, during a five-hour session in Abbey Road's studio two.
21
32
*Nights In White Satin/Moody Blues/1972, Top 77 – 20 times, Peak #22
The "white satin" came from some white satin sheets that a girlfriend had given writer/group member Justin Hayward. Band member Mike Pinder was inspired by the cascading strings of Mantovani and other artists, and wanted to do a similar thing in a rock and roll context.
20
20
*Cherish/Association/1966, Top 77 – 20 times, Peak #14
The single release was edited by speeding up the song and removing one of the two "And I do cherish you" lines near the end. This was done to keep the track at three minutes for AM radio; However, even with the edit, the song still ran over. Instead of editing further, producer Curt Boettcher intentionally listed "3:00" on the label as the song's running time.
19
29
Wichita Lineman/Glen Campbell/1968, Top 77 – 12 times, Peak #19
Writer Jimmy Webb remembers Glen Campbell and producer Al DeLory looking for a follow-up to "˜By the Time I Get to Phoenix'. And remembered writing "Wichita Lineman" that afternoon. He says "That was a song I absolutely wrote for Glen. It was the first time I had written a song expressly for another artist."
18
46
*Hotel California/Eagles/1977, Top 77 – 20 times, Peak #13
Black Sabbath was recording in the next studio, and the leak-through continued to disrupt The Eagles' session.
17
11
*I Want to Hold Your Hand/Beatles/1964, Top 77 – 24 times, Peak #4
The recording was completed in 17 takes, including take four, famous for Paul's not-uncommon 1963 "Beatle shhh"("Shay that shomething").
16
19
*Aquarius Let the Sunshine In/5th Dimension/1969, Top 77 – 12 times, Peak #15
The instrumental track was done in Los Angeles by the Wrecking Crew members including Hal Blaine on drums, Joe Osborn on bass, Larry Knechtel on keyboards, Tommy Tedesco and Dennis Budimir on guitars and Tony Terran on trumpet. The vocals were recorded separately in Las Vegas, with Davis' solo being improvised during the session.
15
15
*My Girl/Temptations/1965, Top 77 – 23 times, Peak #3
Although written by Smokey Robinson for The Miracles, Smokey wanted David Ruffin to sing it on lead for The Temptations. According to Robinson, he allowed the group to create their own background vocals "because they were so great at background vocals". Consequently, the Temptations came up with the now-legendary riffs like "hey hey hey" and a series of "my girls" that echo David's vocal."
14
10
Stairway To Heaven (from the "Led Zeppelin IV" LP)/Led Zeppelin/1971, Top 77 – 24 times, Peak #2
R
obert Plant came up with the lyrics quickly. Jimmy Page says he vividly remembers Robert sitting against the wall with a notepad, dashing off the lyrics after just a couple times listening through.
13
40
Can't Find the Time/Orpheus/1969, Top 77 – 10 times, Peak #13
Originally released in early 1968, the song got to #15 on WMCA in New York. By 1969, it infiltrated several markets including Canada, but overall, it was not a chart success.
12
16
*Be My Baby/Ronettes/1963, Top 77 – 19 times, Peak #12
Drummer Hal Blaine recalls that the famous drum intro was an accident. Says Hal, "I was supposed to play the snare on the second beat as well as the fourth, but I dropped a stick. Being the faker I was in those days, I left the mistake in and it became: "Bum-ba-bum-BOOM!" And soon everyone wanted that beat. If you listen to me in Frank Sinatra's 'Strangers in the Night', I'm playing the 'Be My Baby' beat, just very softly."
11
8
*American Pie/Don McLean/1972, Top 77 – 24 times, Peak #3
Staff engineer Tom Flye recalls "...doing quite a lot of editing. The first verse is just piano and voice, and you'd think that would be very simple, but actually there are eight edits just in that section. We wanted it to be as perfect as possible."
10
12
*Ain't No Mountain High Enough/Diana Ross/1970, Top 77 – 22 times, Peak #2
Valerie Simpson, who wrote the song with husband Nick Ashford, explained: "Nick suggested we have Diana narrate an extended verse. He thought she had a great speaking voice, so he wrote new lyrics. Once his monologue for Diana was completed, I worked on a new structure for the song. I created an introduction that began as an instrumental and led into a choir that set up Diana's spoken voice."
9
6
In the Still of the Nite/Five Satins/1956. Top 77 – 24 times, Peak #2
"In the Still of the Nite" is one of two songs that many feel originated the term "doo wop". The other is "When You Dance" by The Turbans. Both of these songs incorporate the words "doo wop" in the lyrics.

8
5
*Light My Fire-Doors-1967, Top 77 – 24 times, Peak #3
Ray Manzarek played the song's bass line with his left hand on a Fender Rhodes Piano Bass, while performing the other keyboard parts on a Vox Continental using his right hand. For the recording session, producer Paul A. Rothchild brought in session musician Larry Knechtel to play Fender Precision Bass guitar to double the keyboard bass line.
7
9
MacArthur Park/Richard Harris/1968, Top 77 - 24 times, Peak #3
According to writer Jimmy Webb, the rumor that the song was originally 22 minutes long is wrong. It was always around seven minutes. And if Richard Harris sounds a bit shaky on the vocals, it's likely because once The Wrecking Crew laid down the instrumental track, Harris knocked off an entire pitcher of gin-based Pimms...which Webb thinks might be the reason that Harris never sang the title correctly.
6
13
*Good Vibrations/Beach Boys/1966, Top 77 – 24 times, Peak # 6
It took 26 takes to get an initial mono mix of an instrumental backing. In the end, it took 17 sessions and 90 hours at four different studios to complete the record. 70 hours of tape were used to the tune of 6 months and nearly $70,000.
5
4
*Rag Doll/Four Seasons/1964, Top 77 – 23 years, Peak #1
Recorded in a hurry, the song was on the radio within 10 days of the completed session. No one worried about the numerous mistakes, including the bangles of the tambourine noisily being moved away from the mike in between verse and chorus, and the electric piano slightly out of time and being accidentally hit several times.
4
7
*Bridge Over Troubled Water/Simon and Garfunkel/1970, Top 77 – 24 times, Peak #4
L.A. session musicians from the Wrecking Crew were used to bring the feel of Phil Spector's "Wall of Sound" to this hit. The instrumentation was recorded in California, the vocals were cut in New York.
3
2
*(I Can't Get No) Satisfaction/Rolling Stones/1965, Top 77 – 24 times, Peak #2
"(I Can't Get No) Satisfaction" was originally released in mono only and didn't appear in true stereo until the mid-1980s in German and Japanese LP editions.
2
3
God Only Knows/Beach Boys/1966, Top 77 – 21 times, Peak #2
Brian Wilson decided to use many unorthodox instruments on the recording, including French horn, accordions, and a quartet of violas and cellos heard throughout the piece.
1
1
*Hey Jude/Beatles/1968, Top 77 – 24 times, Peak #1
Six takes of "Hey Jude" were recorded, but overall, those were more rehearsals than proper attempts. Only Take 1, 2 and 6 were complete takes. Take 1 was released on The Beatles reissue in 2018. Take 2, which faded out at 4:17, was released on Anthology 3 in 1996.
CONGRATULATIONS ONCE AGAIN TO "HEY JUDE" … OUR #1 SONG FOR 23 TIMES!

Addition Analysis of the 2021 Top 77 can be downloaded HERE!

The official list of ALL the songs that got voted for may be downloaded HERE
!


Special "Thanks" goes to Frank Thomas for his exceptional work on the technical end compiling this list and for helping me with the stats we present and consultation on the overall project. He's an invaluable part of the Top 77 team.
 And thanks to Allan Sniffen for turning the list into a great week of music on REWOUND Radio
.
Check back on this page for details on how you can get your own copy of the complete Top 77, where you can check out EVERY song that got votes and download your very own copy!
This page has been accessed 8697 times