It's Our 24th Annual "Top Songs" Survey!
And NOW is the time to let us know your favorites!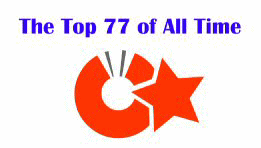 VoteTop77.com
VOTE for your favorite songs in the 24th Top 77 of All Time!
Vote for as few as one to as many as TEN songs!

Rank your choices in order, listing your most favorite at #1
The Oldies Message Board & Rewound Radio focus on music from the 50s through the 70s...
But you can vote for any song from any time!

We have an automatic ballot to make it easy!
Over 30,000 songs are available to vote for from the drop-down menu.
Simply type in the name of the song and our customized program will offer you alternatives of the title and artist.
If your song is not there, instructions are provided at the voting site.

Vote just once.
Duplicate voters and any attempts to "stuff the ballot box" to favor a particular song or act will be disqualified and eliminated so that every voter is equal.
The Top 77 will be counted down on Rewound Radio December 26th
and posted to The Oldies Message Board between Christmas and New Years.
The Top 77 plus hundreds of other songs that also got votes will be featured all Holiday Week on Rewound Radio!
There will be extra live shows all week when you can request the songs you voted for!
Vote today... and tell your friends and colleagues to join in.

Thanks for being a part of this year's Top 77 of All Time!

--Mike Riccio (Oldiesboard.com Moderator & MusicRadio77.com "Survey Guy")
As in past years, attempts to "stuff the ballot box" will be disqualified.





This page has been accessed 2604 times