The 25th Annual Top 77 Songs Of All Time Survey!
The Original Internet Voted Songs Survey!
A Quarter Century Strong!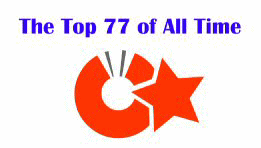 Hundreds of voters...

Thousands of votes...


The Countdown of this year's Top 77 will start at Noon (ET), the day after Christmas (12/26) on Rewound Radio!

Rewound Radio will then play them continuously accompanied by hundreds of additional songs that also got votes between Christmas and New Years!

It's a fun week of great music you voted for...


For the latest on the Top 77, check the Oldies Message Board at OldiesBoard.com or browse back to this page.


The Week of the Top 77 is coming!

Rewound Radio!

This page has been accessed 3134 times