"That Thing's" Rich Appel Talks About The Past, Present And Future
By Scott Benjamin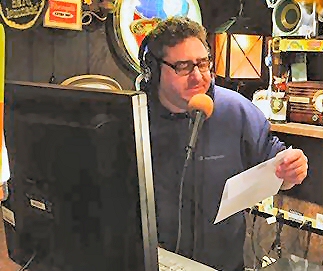 Rich Appel On The Air
Each week "That Thing with Rich Appel" utilizes the past and the present:
"I wanted to recreate the excitement, the pace and the fun that you used to have when you listened to the Drake stations like KHJ, WOR-FM and WRKO in the 1970s when they just talked during the intros to the songs and there were a lot jingles," Rich said of the format of "That Thing With Rich Appel."
He also tries "to bring wit and humor" to the show in the same way that legendary former Musicradio77 WABC and WCBS-FM air personality Dan Ingram did for many years.
"The Supremes could sing 'Stop! In The Name Of Love' or the zillionth time and Dan would make it different by telling a joke that you had never heard before and you would still be thinking about it minutes later," Rich said in an April 27, 2015 phone interview with Musicradio77.com.
"That Thing with Rich Appel" airs Sunday at 6 p.m. on the Internet through Rewound Radio. and then major portions of it are rebroadcast six days later, on Saturday, at WOLD in Edison, N.J.
However, it's not just about the past. There are segments related to current events – as well as historic dates and birthdays. Plus, the listeners communicate in 21st century form with Rich through Facebook.
Instead of a Top 40 survey, each week he instead delivers the world's shortest countdown.
And technology has reached the point that Rich is already seeking to send "That Thing" around the globe the same way that Dick Robinson, who is now noted for owning the Connecticut School of Broadcasting and being a popular Top 40 air personality on Hartford's WDRC in the 1960s, does with his Big Bands show, "Standards By The Sea."
Rich said he believes there are stations that might air "That Thing" on the weekends to fill gaps in their format.
He said he set out to make "That Thing with Rich Appel" different from his friend Bob Radil's 60s & 70s show, which airs Friday nights on Rewound Radio.
Bob maintains a slower pace and talks more about the songs, as well as playing some songs that never made the Top 40.
"I'm jealous of Bob's show," Rich said. "You can talk about the music in detail."
He has plenty to talk about.
"Rich is an authority on the history of radio and pop culture and understands how the media works," Allan Sniffen, the owner of Rewound Radio and Musicradio77.com stated, in an April 29, 2015 e-mail message.
Rich writes stories for Billboard, has done a newsletter and did research for Sony Music for 20 years in the same building where he had previously been doing similar work for WCBS-TV, Channel 2, for seven years.
Bob said in a May 5, 2015 phone interview that he and Rich could probably easily do a weekly, four-hour talk show on music and the media.
Allan wrote that Rich had made a couple of appearances on Bob's Friday night show and "sounded terrific," which led to the offer to put "That Thing With Rich Appel" on Rewound Radio. It has been airing there since December 2014.
After being off the air for many years he had previously done oldies shows at New Jersey's WGHT and then WRNJ.
Rich indicates that the past influences his present:
It's not just Dan Ingram.
"I've stolen from everyone," Rich said when asked about the air personalities that have influenced him as he delivers "That Thing."
The top of list includes the Real Don Steele of KHJ in Los Angeles and Dale Dorman of Boston's WRKO.
Rich forecasts at the future:
"The good news is that in the next few years there will be huge growth" in Internet radio, he declared. "It's going to be so much easier to listen to while you are in a car because the car manufacturers are going to put computers in their new cars."
However, he said some Internet stations won't be able to clear the hurdles.
"A lot of the little guys won't be able capitalize because they won't have the budget for advertising to increase their audience," he said. "There is a lot of expense with electrical bills and licensing fees."
Rich says in conventional radio less regulation has led to more revenue, less entertainment than in the past:
"Radio is not as interesting as it used to be," he said of how AM and FM as they have become less regulated over the years by the Federal Communications Commission.
"When I came to New York in 1984 as a researcher for WCBS-TV, Channel 2, every station had someone exciting to listen to," he explained. "Now sometimes the air personality only talks four times an hour and mostly refers to the Web site or the contest. There's not a lot of leeway in what they can say,"
"They are following their own destiny but it has taken a lot of the fun out of radio," Rich said. "More people are trying to make major profits and see how little they can pay the staff and how many commercials they can play consecutively."
Rich says cable television has made the present different from the past:
"There is so much more competition now," he explained. "You are fighting harder for a smaller share."
He noted that cable networks that didn't exist 15 years ago are producing original programming and have fragmented a market where ABC's Dynasty and NBC's Cheers generated huge ratings a generation ago.
Rich did television research for seven years at WCBS, Channel 2, a decision that partly resulted from his concern about entering a "highly competitive" market for radio air personalities.
He had worked at his high school and college radio stations
Being an undergraduate at the University of Pennsylvania from 1975 to 1979 was a blast.
He was in the Ivy League, had "a great scholarship package" and during his first semester the school established a Communications program.
"You were on a higher plane, because you might have superb academic credentials coming out of high school, but you had hundreds of people around you with those same accomplishments," Rich explained.
From there he got a master's degree in Communications from Boston University, one of the top programs in the country.
"However, I wasn't the best air personality on the block in 1981 or 1982," Rich said, and it seemed that every student coming out of the Communications programs at B.U. and Emerson either wanted to get on the air in radio or get a position at Ted Turner's recently-established Cable News Network (CNN).
He said he has "mixed feelings" about not seeking a career as a radio air personality.
Rich says when you're teaching Communications in college you need to master both the present and the future:
"You have to apply the platforms," Rich said in reference to the classes he teaches at Seton Hall University and at Felician College, both in New Jersey.
"So many students today watch television from an app or a tablet," he said. "It is a thorn in the side of conventional television. That is going to have an even bigger impact over the next 10 years as this generation becomes more established and continue that practice of getting their entertainment from the less-conventional sources."
Rich said the same is true regarding radio.
"You Tube is radio for some people," Rich said. "A growing number of people have the chance to be their own air personality and program director."
Rich says the past is exciting to talk about because there were so many anecdotes and dances:
He said in 1966 there was an astounding 300 songs that made the Top 40. There were almost as many in 1967.
"There were a lot of groups that were struggling to get on the charts," he said.
"So many groups have said they couldn't get proper distribution from the record label," Rich related. He said in some instances a station wouldn't play the song because there were no copies in the stores.
He said it reach the point in the early 1970s where you had a music survey that included both Led Zeppelin and Perry Como.
"The change from 1960 to 1969 was humongous," Rich said. "It was as though you had four decades in one decade. These days the changes move at tortoise pace."
And the initial rock period included two dance eras.
There was the early 1960s with the Twist and the Watusi and then the disco era that began in the Spring 1974 with the popularity of Rock Your Baby by George McCrae and Rock The Boat by the Hues Corporation and peaked as the Bee Gees Saturday Night Fever songs climbed the charts less than four years later.
"Disco kind of brought dancing back with a more classy veneer," Rich said. "Disco also was multi-cultural. It didn't discriminate at all."

Rewound Radio

WABC Musicradio 77