Musicradio 77 WABC
The Greatest Top 40 Music Radio Station Of All Time!
-- A Rewound Radio Educational Web Site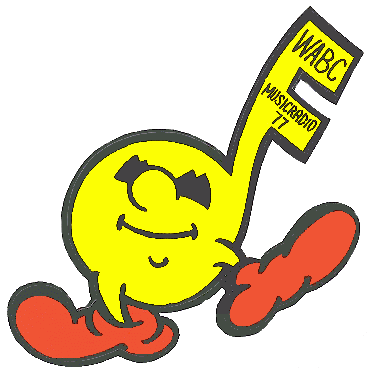 This web site has been accessed 7933522 times since January 5, 1997
Last updated October 20, 2020

The Musicradio WABC Picture of the Week
(updated every Tuesday night)
The Bob Dayton "Help Stamp Out Fan Clubs" Fan Club Card
(courtesy Mike Riccio)

(front)

(back)
Bob Dayton worked at WABC from 1963 until 1965.
Like Dan Ingram, he arrived at WABC from WIL in St. Louis where he worked under the air name "Rockin' Robin Scott".
Bob did the midday show on WABC coming on after "The Breakfast Club" at 11AM
and preceding Dan Ingram who came on at 2 PM.
Known for his acerbic wit, Bob found himself at odds with WABC programming guru Rick Sklar on a number of occasions.
After WABC, Bob worked in Los Angeles at KRLA before returning to
New York City where he worked at both WPIX-FM and WCBS-FM.
This Saturday (10/24) The Rewound Radio DJ Hall of Fame will feature Bob starting at 12 Noon (ET)!


Rewound Radio Pop Up Player!
This Week's Anniversary WABC Music Surveys!
Updated Every Tuesday Night
(WABC New Survey Day!)
October 22, 1960
October 19, 1965
October 20, 1970
October 21, 1975
October 21, 1980
Rewound Radio
The great music of the Musicradio WABC Era all day, every day!
"It's not how old it is... It's how GOOD it is!"
Click or Tap:



(Additional listening options available at RewoundRadio.com)
Web Site Index

WABC Musicradio 77 Web Site Introduction
The introduction to this web site and why WABC was the "greatest Top 40 radio station of all time".

The Sound of Musicradio 77 WABC
Hundreds of WABC recordings including airchecks, interviews and promos.

The Evolution of Musicradio WABC
A chronological audio trip through WABC's time as a top 40 radio station.

WABC Weekly Music Surveys
Every music survey from 1960-1982.

WABC Top 100 Songs of the Year
The WABC Top 100 Songs of The Year lists from 1964 to 1982.

WABC Jingles
WABC is the most famous radio station ever for its jingles from legendary companies like PAMS of Dallas, and JAM Creative Productions.

An Audio History of WABC's jingles!
In December, 2019 Jonathan Wolfert did the history of WABC's jingles on his Rewound Radio show!

Musicradio WABC: Those Great DJ's!
The great WABC DJ's!

WABC Air Schedule
The complete list of the dates and times that each air personality was scheduled on WABC from December 1960 to May 1982.

New York Radio Personality Harry Harrison Remembers
Harry Harrison did the "Morning Drive" show on WABC from 1968 until 1979. Harry contributed an unbelievable collection of memorabilia to this web site.

Musicradio WABC Rick Sklar Page
Rick Sklar was the programming wizard behind Musicradio WABC.

WABC Glenn Morgan Page
Glenn Morgan came to WABC as Assistant Program Director/Production Director in 1971. He became Program Director in 1975 and Operations Director in 1977.

Al Brady Comments
Al Brady was program director of WABC in 1979 and 1980.

Les Marshak's WABC Odyssey
Les wrote his story and contributed airchecks.

Musicradio WABC Frank Kingston Smith Page
Frank Kingston Smith contributed some "inside" stories about some of his experiences at Musicradio WABC.

Musicradio WABC Bill Epperhart Page
WABC Engineer Bill Epperhart contributed a fascinating look at what it was like to be a Studio Engineer at Musicradio WABC.

Bob Hardt and WABC News
Bob Hardt was the voice of WABC News every afternoon during Dan Ingram's show.

Musicradio WABC Beatles Page
WABC successfully aligned itself with the greatest pop music phenomenon of all time: The Beatles.

Why Did WABC Have Such a Great Signal?
You really could hear WABC everywhere (or so it seemed).

Julian Breen Remembers
Julian Breen was Assistant Program Director at WABC from 1968-1971.

The Day The Music Died
It all came to an end on May 10, 1982.
---
Musicradio WABC Pictures and Memorabilia

A Virtual Tour of the WABC Studio in 1978
Pictures of the Musicradio WABC studio at 1330 Avenue Of The Americas

The WABC Studios in 1964

Before WABC moved to the famous "Avenue of The Americas" address, it was located at 1926 Broadway in New York.

My Letter from Dan Ingram
I wrote to Dan and got a letter back... in 1972!



WABC Musicradio $25,000 Button

One of the greatest radio promotions anytime, anywhere!
---

WABC Profiles And Tributes by Scott Benjamin
Scott Benjamin has contributed many tributes and profiles to the web site from those who worked at WABC during the Musicradio era. Here is the archive of his contributions.

Dan Ingram at the Museum of TV and Radio
"Hi, Kemosabe! A Conversation with Dan Ingram" was a presentation Dan Ingram gave at the Museum of TV and Radio in New York City on October 25, 2001.

Dan Ingram: In His Own Words
Allan Sniffen hosts an original program featuring Dan talking about his career from his early days on into the 2000's. As originally broadcast live on Rewound Radio July 2, 2016

Harry Harrison's Last WCBS-FM Show
Former WABC personality Harry Harrison did his final show on WCBS-FM on March 19, 2003.

Ron Lundy's Final Days on the Radio
Former WABC Air Personality Ron Lundy retired from WCBS-FM on September 18, 1997.

WABC Rewound!
WABC re-created itself each Memorial Day between 1998 and 2009. It was inspired by this web site!

The Top 77 of All Time
Yearly surveys of the top songs of all time as voted by you!


The New York Radio Message Board
Discussion of current New York Radio topics!

Thanks for stopping by and stay tuned!
If you have comments about Musicradio77.com, click:
E Mail Allan Sniffen
This page is not an "official" page, and is not created nor endorsed by the current or former management of radio station WABC. Except where otherwise noted, the information on this page is from items I personally collected or heard broadcast over many years and represents my personal interpretation and opinion of those events.

All written material on the pages of this web site is the property of Allan Sniffen unless otherwise noted and cannot be duplicated or otherwise distributed without prior written consent. Image files are either the property of Allan Sniffen or are the property of the noted contributor and also cannot be duplicated or distributed without prior written consent.

Musicradio77.com is part of the Rewound Radio non-profit 501(c)(3) educational organization dedicated to preserving the art of Top 40 Radio.