The WABC Heavy Hundred of 1970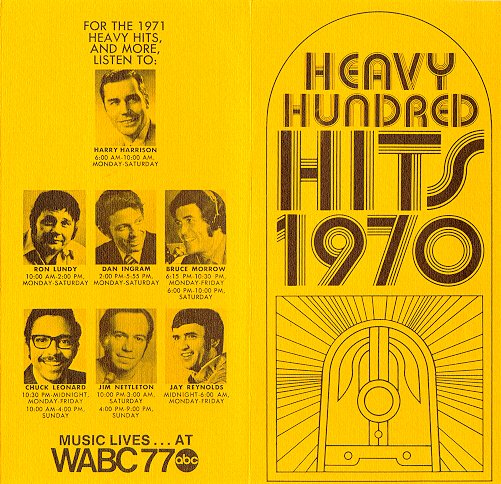 The Top 100 of 1970
(airchecks in Real Audio Format)
Bruce Morrow, the jingles, the commercials, and the reverb... It's all here! Eighty straight minutes of Musicradio WABC. A special thanks to Joe Fazio of Escondido CA for this contribution.
This aircheck is from December 25, 1970. Cousin Brucie is playing the Top 100 Songs of the year. Hear them as just as they were broadcast by New York's favorite cousin on that night 30 years ago. There's even a "Sneak Preview with Chuck Leonard" on this aircheck (you won't believe who Chuck was previewing)!
From Brook Benton's "Rainy Night in Georgia" to Crosby, Stills, Nash and Young's "Woodstock", the music cuts right through you as you hear it on this aircheck. I'm not sure whether it's the reverb, the era, the nostalgia, AM radio or just the fact that this is exactly what it sounded like (not some consultant's re-creation), but it makes you feel like it really is December, 1970. If you were there, you'll know what I mean.
If you want to get the full effect, just start it at the beginning and let it play. Don't jump ahead, or skip over anything (not even the songs you don't like). Let the music come at you without knowing what the next song is. That's about as close as you can get to really hearing WABC again and to feeling the excitement of anticipating what the next song might be (that was a BIG part of listening to Top 40 radio). Again, if you were there, you know exactly what I mean. And if you weren't there, this might give you an idea as to why it all worked so amazingly well.
In the words of Rick Sklar, here's "A BLAST FROM THE PAST"!


Cousin Bruce Morrow
Real Audio
More Top 100 of 1970!
Once the above aircheck of Cousin Brucie playing the Top 100 of 1970 was posted, Frank Quaranti of Middletown NY sent in two more unedited airchecks from that same night in 1970!
Chuck Leonard came on after Cousin Bruce that night and here he is... playing the Top 100 of the Year. As always, Chuck sounds great. He always has a very positive upbeat sound. Since he was working on Christmas night when most everyone else was off, that must have been a challenge!
Jay Reynolds came to WABC in February of 1970 so this was his first year counting down the Top 100. He had a terrific sound and seemed to really fit in at WABC. Below are two unedited airchecks of Jay who followed Chuck Leonard that night. On Part 1 be sure to listen to the "American Contemporary News" (15 minutes into the aircheck). The news about Vietnam and the rest of the world in Christmas 1970 was not nice.


Jay Reynolds (Part 1)
Real Audio
I especially liked Part 2. It is a terrific example of how WABC (and other Top 40 radio stations of this era) would play anything that became a hit. As commented previously, we never hear some of this music anymore. But, if we did, it certainly would not all be on the same radio station...


Jay Reynolds (Part 2)
Real Audio
And, yet ANOTHER aircheck from Bruce as he played the Top 100 of 1970:


Bruce Morrow
January 1, 1971
Mp3

Bruce Morrow
January 1, 1971
Real Audio
(courtesy Bob Gerathy)
The Musicradio WABC Top 100 of 1970

Courtesy of the WABC Musicradio 77 Internet Web Site
www.musicradio77.com
1 "Raindrops Keep Fallin' On My Head"..................B.J. Thomas

2 "Let It Be"..........................................The Beatles

3 "Band of Gold".......................................Freda Payne

4 "I'll Be There"......................................The Jackson Five

5 "Close To You".......................................The Carpenters

6 "The Love You Save"..................................The Jackson Five

7 "Bridge Over Troubled Water".........................Simon and Garfunkel

8 "Ball of Confusion"..................................The Temptations

9 "Signed, Sealed and Delivered".......................Stevie Wonder

10 "War"...............................................Edwin Starr

11 "Make it With You"..................................Bread

12 "Ain't No Mountain High Enough".....................Diana Ross

13 "I Want You Back"...................................The Jackson Five

14 "A B C".............................................The Jackson Five

15 "Spirit in the Sky".................................Norman Greenbaum

16 "We've Only Just Begun".............................The Carpenters

17 "Venus".............................................Shocking Blue

18 "Cracklin' Rosie"...................................Neil Diamond

19 "Which Way You Goin' Billy?"........................The Poppy Family

20 "Candida"...........................................Dawn

21 "Thank You (For Letting Me Be Myself Again)"........Sly and the Family Stone

22 "Hey There Lonely Girl".............................Eddie Holman

23 "Patches"...........................................Clarence Carter

24 "Leaving on a Jet Plane"............................Peter, Paul and Mary

25 "Spill the Wine"....................................Eric Burdon and War

26 "American Woman"....................................The Guess Who

27 "Instant Karma".....................................John Lennon

28 "Cecelia"...........................................Simon and Garfunkel

29 "Indiana Wants Me"..................................R. Dean Taylor

30 "The Rapper"........................................The Jaggerz

31 "Mama Told Me"......................................Three Dog Night

32 "Someday We'll Be Together".........................Diana Ross and the Supremes

33 "Turn Back the Hands of Time".......................Tyrone Davis

34 "In the Summertime".................................Mungo Jerry

35 "Reflections of My Life"............................Marmalade

36 "Get Ready".........................................Rare Earth

37 "Hitching a Ride"...................................Vanity Fare

38 "Love Grows (Where My Rosemary Goes)"...............Edison Lighthouse

39 "Ooh Child".........................................The Five Stairsteps

40 "Easy Come Easy Go".................................Bobby Sherman

41 "For the Love of Him"...............................Bobbie Martin

42 "Long and Winding Road".............................The Beatles

43 "Love on a Two Way Street"..........................The Moments

44 "Fire and Rain".....................................James Taylor

45 "Looking Out My Back Door"..........................Creedence Clearwater Revival

46 "Everything is Beautiful"...........................Ray Stevens

47 "Tighter and Tighter"...............................Alive and Kicking

48 "Julie, Do You Love Me".............................Bobby Sherman

49 "Express Yourself"..................................Charles Wright & the 103rd St. Band

50 "5-10-15-20 (25-30 Years of Love)"..................The Presidents

51 "Ride Captain Ride".................................The Blues Image

52 "Don't Play That Song"..............................Aretha Franklin

53 "Why Can't I Touch You".............................Ronnie Dyson

54 "Whole Lotta Love"..................................Led Zeppelin

55 "All Right Now".....................................Free

56 "I Think I Love You"................................The Partridge Family

57 "I'll Never Fall in Love Again".....................Dionne Warwick

58 "Come and Get It"...................................Badfinger

59 "Lay Down"..........................................Melanie

60 "Call Me Super Bad".................................James Brown

61 "Somebody's Been Sleeping"..........................100 Proof

62 "He Ain't Heavy; He's My Brother"...................The Hollies

63 "Na Na Hey Hey Kiss Him Goodbye"....................Steam

64 "Holly Holy"........................................Neil Diamond

65 "Give Me Just a Little More Time"...................The Chairmen of the Board

66 "No Time"...........................................The Guess Who

67 "Up Around the Bend"................................Creedence Clearwater Revival

68 "Ma Belle Amie".....................................The Tee Set

69 "Without Love"......................................Tom Jones

70 "Look What They've Done to My Song Ma"..............New Seekers

71 "Arizona"...........................................Mark Lindsay

72 "25 or 6 to 4"......................................Chicago

73 "Down on the Corner"................................Creedence Clearwater Revival

74 "Traveling Band"....................................Creedence Clearwater Revival

75 "Snowbird"..........................................Anne Murray

76 "Psychedelic Shack".................................The Temptations

77 "Vehicle"...........................................The Ides of March

78 "It Don't Matter to Me".............................Bread

79 "House of the Rising Sun"...........................Frijid Pink

80 "United We Stand"...................................The Brotherhood of Man

81 "Come Together".....................................The Beatles

82 "Green Eyed Lady"...................................Sugar Loaf

83 "Jam Up and Jelly Tight"............................Tommy Roe

84 "Up the Ladder and to the Roof".....................The Supremes

85 "Take a Letter Maria"...............................R. B. Greaves

86 "Didn't I (Blow Your Mind This Time)"...............The Delfonics

87 "Rainy Night in Georgia"............................Brook Benton

88 "The Wonder of You".................................Elvis Presley

89 "Lay a Little Lovin' On Me".........................Robin McNamara

90 "Tears of a Clown"..................................Miracles

91 "Montego Bay".......................................Bobby Bloom

92 "Eli's Coming"......................................Three Dog Night

93 "Evil Ways".........................................Santana

94 "Winter World of Love"..............................Engelbert Humperdinck

95 "Groovy Situation"..................................Gene Chandler

96 "My Baby Loves Lovin' ".............................White Plains

97 "Still Water".......................................The Four Tops

98 "Peace Will Come"...................................Melanie

99 "Woodstock".........................................Crosby, Stills, Nash and Young

100 "Somethings Burning"...............................Kenny Rogers and the First Edition
WABC's Top 100 Songs for other years are available on this web site:
WABC Top 100 Songs of the Year

Full Length WABC Airchecks Page

WABC Musicradio 77 Home Page