WABC Jingle Guide
This is an actual "Jingle Guide" from the WABC air studio from February, 1967. This is what the disc jockeys used as a list for the jingles then being used on the station.
This gives you an idea of the massive number of jingles that WABC used during this era. These are PAMS jingles from Series 28 ("Happiness Is"), Series 29 ("Go Go"), Series 31 ("Music Explosion") and Series 33 ("Fun Vibrations"). As you can see, WABC did not completely replace one series with another. Instead they continued to mix older series with newer series.
If you have heard these jingles then you realize how many different melodies are here. This is a trademark of this era in Top 40 radio. Today, radio stations are not interested in this kind of variety in jingles. Shorter "shout" type jingles are now demanded by music radio stations.
Jonathan Wolfert, who contributed this guide wrote:
"The numbers on the jingle playlist were actually the cart numbers. The jingles lived in a cart rack accessible to the engineer. Usually the jock would just call out the cart number of the jingle he wanted (based on the list, which he kept in front of him), and the engineer would stick it in the machine. After a while the jingles became best known (in the studio) by their number rather than their name. For example, everyone knew that "56" was "bum-ching WABC strikes gold", and that "202A" was the Series 18 hour opener with Ingram's "More music on..." over the top.
"When new jingles were added, the ones that stayed on kept their numbers, and the new ones got numbers of cuts that had been retired. If it was anticipated that a cut might return after a while, it's number was not re-used. That's why there are missing numbers on the list.
"The DJ jingles were in a separate cart rack accessible by the jock, so he could pull out what he wanted and just hand it to the engineer. Ingram used some of his so frequently that the engineer would just keep them on his side of the board for the entire show. Dan assigned letters to his cuts, so he could simply ask the engineer for a "W" or a "Y"."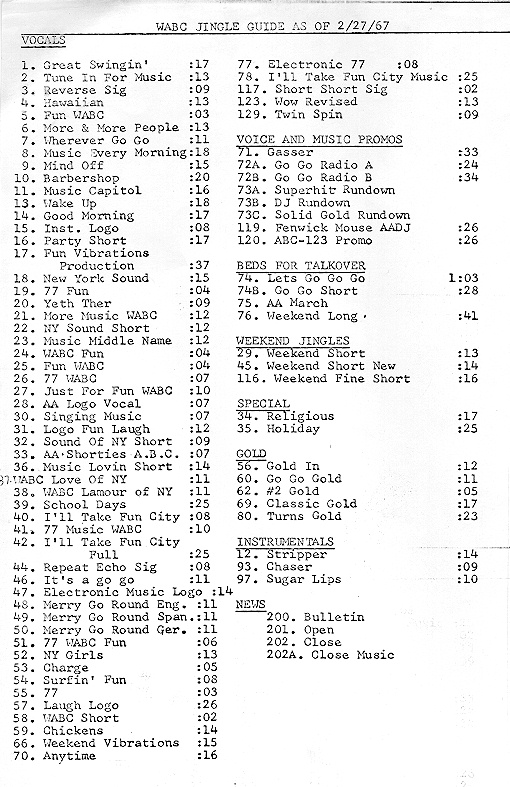 WABC Jingles Page

WABC Musicradio 77 Home Page