Musicradio WABC Glenn Morgan Page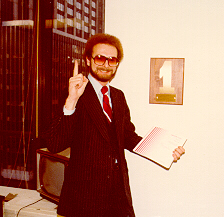 Glenn Morgan Celebrating Another WABC Number One Ratings Book in December 1977
(Photo courtesy Jonathan Wolfert)
Glenn Morgan started at WABC in 1971 at the age of 24! He was hired by Rick Sklar first as Assistant Program Director and Production Director. In 1975 he was named Program Director and in 1977 was again promoted to Operations and Program Director (when Rick Sklar left to work full time as Vice President for the ABC radio network).
Glenn's time at WABC stretched throughout most of the seventies and he was responsible for much of the production heard on the station as well as for many of its various programming strategies. Remember the "I Love New York" promos from 1977? Glenn produced those. He was also responsible for producing the 1974 "$25,000 Button" promos, the 1975 "Easy as ABC" promos, and the 1976 Bicentennial promos.
This was a very challenging time for programming AM rock music stations. As the mid to late seventies rolled along, WABC came under ever increasing competition from FM stations and, even so, it remained "the most listened to station in the nation" right up until 1978. This is a tribute to the success of Glenn's strategy of trying to "sound more like an FM". In 1976 the station began to add selected album cuts from artists like Fleetwood Mac and Steve Miller. They also pushed the commercial load down to nine commercials an hour (three 60 second spots three times an hour) which was far below what it had previously aired. Glenn also tried to "anticipate" programming threats from other radio stations. When WNBC brought in Bob Pittman from Chicago in 1977, Glenn studied the strategies he had used there so that WABC could successfully counter-program that challenge.
Among the competitors that Glenn had great respect for during his time at WABC was WXLO (99X). Glenn admired the programming skills of Jerry Clifton and the DJ'ing skills of Steve "Smokin'" Weed. He also felt that WWDJ was a good competitor.
In 1979 Glenn left WABC and went to work for Mutual. He was responsible for hiring Dick Clark to do the their weekly Top 40 Countdown show. In 1983, he started his own production company "Master Audio Productions" which he continues to run today.
Glenn tells the story of his time at WABC very well in an article he is writing for this web site titled "In His Own Words". So far, we have Part 1:

Glenn Morgan: In His Own Words
Glenn describes getting "the call" to go work for WABC and what it was like working for the biggest Top 40 radio station in the country!

The Hiring of George Michael
Glenn tells the story of how George Michael was chosen and then hired for the coveted evening spot on WABC in 1974.

The Hiring of Bob Cruz
Glenn tells how Bob Cruz was hired to work at WABC at the young age of 22!

The 1977 Blackout At WABC

The 1977 Power Blackout...

The Sklar
In keeping with a tradition that Rick Sklar was renown for when someone left WABC, Glenn wrote and produced a parody tape recounting Rick's life and career when Rick was promoted out of WABC. This is a classic piece of production as well as a very funny recording which also contains many historical references to the great days of Musicradio WABC!

Bruce Morrow WABC Farewell Tape
Cousin Bruce Morrow left WABC in August 1974. Glenn produced a tape played at his farewell party. It's a riot... and even includes comments for Howard Cosell!
Promos written and produced by Glenn Morgan for WABC
(most feature Dan Ingram)
"I Love New York!". Anyone who was living in the New York area in 1977 can still hum the jingle. WABC tied it in with a contest where listeners who knew "the good word about New York" could call WABC and win prizes. Listen to the tremendous number of celebrities Glenn was able to enlist to promote New York City (and WABC)!

Mp3
The WABC $25,000 button contest from 1974 was one of the most famous and successful radio station promotions ever. Glenn produced the on air promos:

Mp3
In 1976 WABC jumped on the bicentennial bandwagon and joined the country in the celebration. Glenn lined up many celebrities and local personalities to record tributes on behalf of WABC:

Mp3
As easy as ... ABC! The last promo in this set was for a WABC promotion known as "Hollywood Is Easy As ABC" and it won the coveted CLIO award (the Emmy of advertising). In all the years of terrific WABC production, this was the only time the station won a CLIO. Note the how well the promos were integrated with the JAM jingles then being used by the station.

Mp3
Elvis in New York! A WABC promotion for a concert by Elvis Presley that Glenn produced:

Mp3
One of Glenn's earlier assignments at WABC was the "Top 100 of 1971" promo:

Mp3
One night, during a flu epidemic, Glenn found himself very short staffed... so short staffed that he had to put himself on the air! Glenn describes it this way:
"This is an aircheck of the night I went on the air at WABC. It was December 9, 1978, coincidentally my birthday. About half our jocks were out sick with the flu. At the time, I was Operations and Program Director and I had a dilemma: there were not enough healthy jocks to keep the station on the air. By all rights under the AFTRA talent union contract, I was supposed to use company union talent. I was not in the union. The only people I could use were the TV announcers who do station breaks. I believed none of them could follow the format or maintain "the sound" of the station. Out of desperation, I rearranged the airshifts of the jocks who didn't have the flu, and put myself on the air from Midnight to 6 AM. Harry Harrison was sick, so Ron Lundy followed me. I loved it! I hadn't been on the air for nearly seven years, so not only was I rusty, but I had never been on the air at a major market! Atlantic City was my last gig. In all honesty, I think the aircheck sounds pretty damn good."

Mp3
Thanks to Glenn Morgan for these terrific contributions.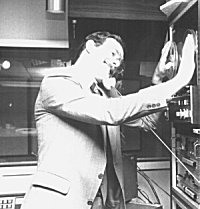 Glenn Morgan... in the Production Studio!
(Photo courtesy Peter Kanze)

WABC Musicradio 77 Home Page