My Letter from Dan Ingram
In March of 1972 I sent a letter to Dan Ingram requesting an autographed picture. I was 14 years old. Dan not only sent me a picture, but a reply letter which is pictured here. This was such an unbelievable thrill for me at that time. I certainly would have been more than happy with just the picture, but his letter indicated that he had actually read my letter and took the time to respond.
Of course, it made me a Dan Ingram fan for life. I have followed his career through WABC, WKTU, and now WCBS-FM. I listened to his CBS produced countdown show when it was on, watched his HBO Preview Show, and have also been able to spot his voice on hundreds of commercials he has provided the voice over work for through the years.
But, of course, his greatest talent is that of a disc jockey. No one could run the top 40 format the way he could (and considering ALL the great DJ's from the sixties and seventies, that's really something). From his voice, to the mechanics of running the show, on down to his irreverent humor there has never been a better DJ.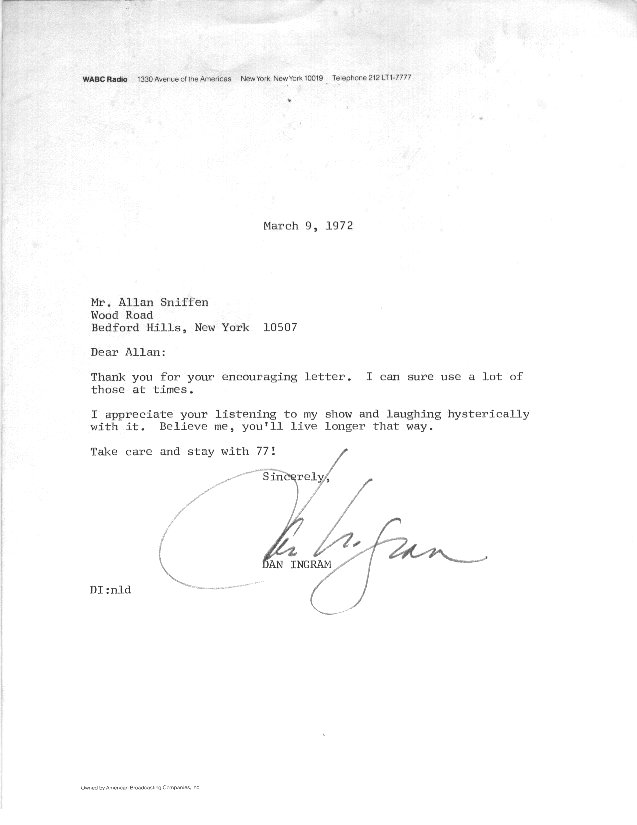 After receiving this letter, I started to tape the closings of Dan's show every evening (at 5:55 PM) from the radio. His show always ended with the Tri Fi Drums jingle playing underneath Dan making some comment, usually humorous, about whatever was on his mind. Like most things Dan does over the air, it was spontaneous which made it all that much funnier.
Dan worked at WABC from July 3, 1961 until May 10, 1982. Except for a brief time in 1979/80 where he did mornings, his career at WABC was in the afternoon where he consistently scored the highest ratings in town. Over those years he inspired many (including myself) to become disc jockeys (which I did for approximately 15 years).
Dan did a twentieth year anniversary show at WABC on July 3, 1981 where he talked about many of his experiences at WABC and has also talked about some of his experiences on numerous reunion shows on WCBS-FM. One of those was a letter he received on his last day on the air at WABC. It was from a young woman who wrote to Dan to thank him years after she almost committed suicide when she was a battered child. She claimed that she had changed her mind after she heard him make some kind of funny comment. Dan has never been shy about letting his emotions out while on the air (which always made the listener feel like he was talking directly to you, not at you) and when he told this story years later on CBS-FM, he actually choked up a bit. To me, that is the measure of this man and the station he worked for. Yes, Musicradio WABC was a show and a way to make money for the company that owned it. But many of those who worked there, including "Big" Dan Ingram, really did care about what was going on and the tremendous influence they had on some (many?) of their listeners.
That was part of the magic.

WABC Musicradio 77 Home Page