Mike Riccio Surveys The Top 77 Of 2023
by Scott Benjamin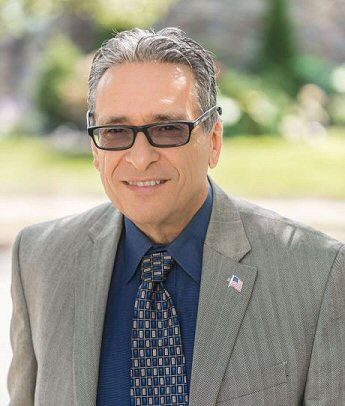 Mike Riccio
It is the wee small hours of Friday morning, December 27, 1968 and Chuck Leonard is subbing for Charlie Greer on all-night show - brought to you by Dennison, the men's clothier, Route 22, Union, New Jersey, "where money talks and nobody walks."
The engineer activates the tape cart and underneath the musical intro to "Love Child," by Diana Ross and the Supremes, Dan Ingram is heard: "WABC Super-hit of the year, number . . ."
Chuck Leonard: . . . "77. Aretha, the right-rocking, Franklin. You better stand up and Think, baby."
Musicradio77.com Survey Guy Mike Riccio stated in an e-mail interview that he started the Top 77 of All Time in 1998 to try and replicate the Top 100 Songs of the Year that WABC aired during the Christmas to New Year's week from 1964 through 1981.
He wrote, "I wanted to remember and bring back the time when the end of the year was a magical one for WABC listeners (and for many listeners of other Top 40 stations), when the Top 100 of the year would be featured for the entire holiday week between Christmas and New Year's Day," wrote Riccio. "And from the feedback I've gotten, that has certainly been achieved."
The Top 77 is now in its 26th year – eight years longer than the Top 100 Songs.
Pre-digitization, listeners would mail a self-addressed stamped envelope to get a copy of the Top 77. In some years it would feature photos of the WABC All-Americans. Now, Riccio sends a copy via e-mail to each voter in the Top 77.
Voting for 2023 began on October 24 at OldiesBoard.com, MusicRadio77.com, RewoundRadio.com partly through the assistance of long-time Top 77 technical director Frank Thomas.
Riccio wrote, "What's unique about the voting process is that it allows for voters to vote for as few as one song or as many as ten. Also, another unique part of the Top 77 is that it allows for voters to include literally any song that was ever officially released to the public from a professional source. (In other words, we won't include your niece or nephew singing "Happy Birthday to Grandpa" on You Tube. But pretty much everything else is fair game.)"
"I wanted to see what a completely fairly-compiled 'Top Favorites' list would look like," wrote Riccio, who for many years has been a real estate broker, but once had the top mid-day ratings in a Long Island market at WBLI in Suffolk County. Riccio stated that, "This is likely one of the only true 100% accurate "All-Time Favorites" lists you'll find. Every song is counted, with points accumulated based on how many people voted for each song and how high on their list each voter placed the song."
He added, "Voters can pick songs from any year, any decade, any era. They can also choose songs from any music genre. So, it's very common for the final results to include everything from top 40 to hard rock to R&B to classic soul to big band to classical, and on and on."
That is similar to the range of the Top 100 Songs of the Year. In 1968, for example, you had entries from Blue Cheer. . . Jeannie C. Riley . . . The Ohio Express. . . Richard Harris . . . The Beatles. . . Herb Alpert. . . The Vogues. . . Marvin Gaye & Tammi Terrell.
As usual, in 2022 The Beatles led the way with 77 songs that received votes.
Their "Hey Jude" has been number one each year, except one, when "Rag Doll" from the Four Seasons occupied the top position. Interestingly "Hey Jude," in 1968, is the only Beatles song to ever place first on the WABC Top 100 Songs of the Year. Surprisingly, in 1964 when the Beatles made their iconic television appearances on the Ed Sullivan Show, "Hello Dolly" by Louis Armstrong topped the Top 100 Songs list that year, just ahead of The Fab Four's "I Want To Hold Your Hand" and "She Loves You."
In the balloting for the Top 77 in 2022, Elvis Presley ranked second in the number of songs selected with 59. Then came the Beach Boys, 31; the Rolling Stones in fourth at 29; the Four Seasons, 22; Diana Ross & the Supremes at 21; Elton John, 20; the Bee Gees and the Carpenters, tied for eighth with 18 each; Fleetwood Mac, 16; and Chicago, Frank Sinatra and The Monkees tied for 11th place with 14 songs each.
Riccio, who with the other Survey Guys helped assemble a list of each of the WABC weekly surveys for Musicradio77.com some years ago, wrote that events can boost an artist or a song.
"For example, if a song is featured on a TV commercial, or in a viral video, or on social media, then it's highly likely that THAT song will get many votes on the Top 77," he stated "If a particular artist becomes newsworthy or is in the middle of a strong concert tour, it's likely that the act's songs will perform better on the Top 77. If the act or song is part of a current movie or streaming show, it's likely that THAT will influence voting."
Riccio indicated that last year there were 2,999 songs that received votes. The most popular decade was the 1960s with 1,218 songs, with the 1970s ranking second with 1,006 songs.
He wrote that Rewound Radio will air the hits from the Top 77 from Tuesday, December 26 through Monday, January 1, 2024.
Riccio stated that he and Musicradio77.com web master Allan Sniffen will co-host a top 77 show and air personality Jon Wolfert, whose contact with WABC dates to the 1960s, will host a special edition of his weekend show.
It could seem like 1968 again.
The Dan Ingram voice-over: "WABC Super-hit of the Year, number . . ."
Chuck Leonard: "79. Dionne Good-Singing Warwick. Oh, Do You Know The Way To San Jose . . . Woo, woo, woo."
Vote In The 2023 Top 77...

HERE!