Pictures From Ron Lundy's Last Show!
WCBS-TV, Channel 2 in New York City covered Ron's final show. These pictures were taken from that broadcast. If you have heard Ron's last show, then you know what a wonderful event it was. New York radio legends filled the studio wishing Ron a tearful goodbye. Here are a few pictures from that very memorable day:
A VERY special thanks goes to former WABC engineer Bill Epperhart for converting the video to image files for use on this website!!
This is the audio to go with the pictures:

RealAudio Player
A Group Shot of New York Radio Legends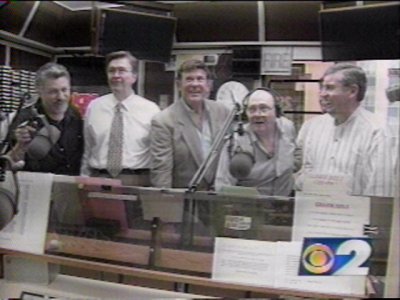 From left to right: Dan Ingram, Dan Daniel, Bruce Morrow, Ron Lundy and Harry Harrison.
Best Friends Always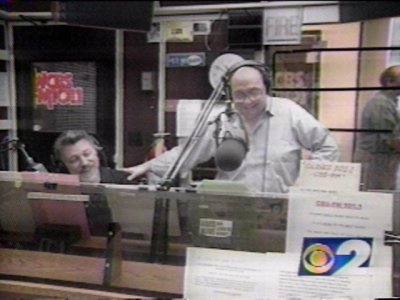 Ron, at the mic, places his hand on his best friend Dan Ingram's shoulder.
Ron Talks to the Mayor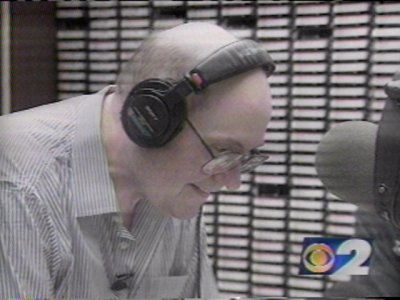 Ron accepts accolades from New York City Mayor Rudolph Giuliani.
Ron on TV!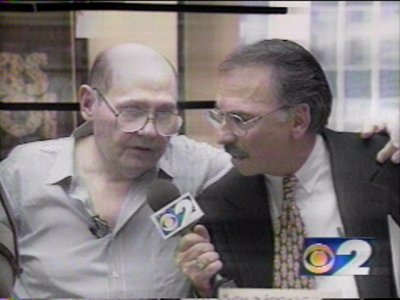 Ron is interviewed by WCBS-TV reporter Morry Alter.
Bye Luv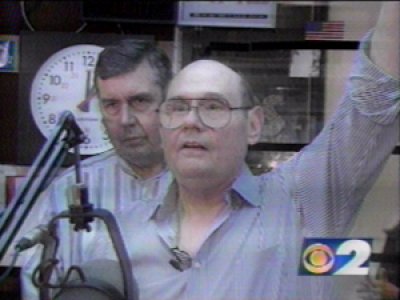 With a tearful Harry Harrison standing behind him, Ron throws the final cue to his engineer Barry Siegfried as he says "Thank you..... Goodbye Luv".

Ron Lundy's Final Days on the Radio section

WABC Musicradio 77 Home Page