Ron Lundy's Final Days on the Radio
(The best coverage on the internet was right here!)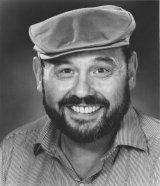 Former WABC and WCBS-FM Disc Jockey Ron Lundy retired from WCBS-FM on Thursday, September 18, 1997. At the age of 63 he decided "it's time to let the young folks have it".
Ron was on the air in New York City starting in September 1965, first on the overnight shift at WABC before shifting to middays in 1966. He remained at WABC right up until its last day as a music station on May 10, 1982. He then shifted to WCBS-FM in 1984 and remained there until his retirement. Recently he won the 1997 "BronzeWorld Medal" at the New York Festivals Radio Programming Awards for the "best local personality". His signature phrases were "Hello Luv.... This is Ron Lundy" and "It's 10:00 in the morning in the Greatest City in the World!!".
Ron retired with his wife Shirley to his farm in Oxford, Mississippi, 95 miles southeast of Memphis.
Those of us who are WABC and WCBS-FM fans greatly miss Ron on New York radio. For 32 years he was consistently upbeat, positive, funny and charismatic. To me, he was like the kid in the back of the room at school..... always able to find something to laugh about no matter what. Whether it was his "Willard the Duck" imitation or his uncanny ability to give other disc jockeys nicknames, Ron was always a "personality".
Radio could use more like him.

Ron Lundy's Last Airchecks
Our Special Ron Lundy "Final Shows" section. Airchecks from WCBS-FM included! Ron's last show is here along with his final shows from the days preceding September 18. For those who don't have Real Audio capability, we have included descriptions of Ron's shows and who appeared with him. Copies of newspaper articles about Ron are also here.

Pictures From Ron Lundy's Last Radio Show
These are pictures extracted from the TV story which ran on New York's Channel 2. A special thanks to Bill Epperhart for converting the TV pictures for use on this website!

Bill Epperhart Salutes Ron Lundy
WABC engineer Bill Epperhart contributed a terrific salute to Ron. Bill did such a great job with this that we were contacted by Vince Santarelli, publisher of the "Apple Bites" Radio Newsletter, for permission to reprint it.

Barry Siegfried Remembers Ron Lundy
WCBS-FM engineer Barry Siegfried was the control board operator for Ron Lundy's last show on WCBS-FM. Barry contributed this account of that day and describes his admiration for Ron. Additional pictures included!

WABC Musicradio 77 Home Page