Musicradio WABC Rick Sklar Page
Rick Sklar was the programming genius behind Musicradio WABC.
Rick grew up in Brighton Beach, Brooklyn NY. He graduated from New York University and while there volunteered at New York City owned WNYC radio as a writer. After graduation, he got his first commercial job at WPAC in Patchogue, Long Island NY. At WPAC he did everything from write copy to announcing news. In need of extra money in 1954 he answered a blind want ad which read "copy/contact-Radio". The station that placed the ad turned out to be WINS in New York City.
Rick moved up the ladder quickly at WINS. At first he was a "gopher" for the sales department but thanks to both luck and his obvious skill he was quickly promoted to Assistant Program Director.
The man who coined the phrase "Rock and Roll"; disc jockey Alan Freed, fresh from his success in Cleveland, also started at WINS in 1954. Rick shared an office with him and over the next four years watched Freed emerge into a radio phenomenon. Freed did it by playing original versions of "rock and roll" music no one else would, and by promoting himself and this music with shows and concerts. He also kept his "playlist" to a relatively few number of records. Rick observed how well this worked for Freed. It was an important lesson.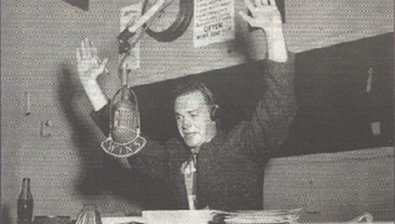 Alan Freed at WINS in 1956
Freed's "Moondog" Rock and Roll show was so successful in the ratings at night that WINS decided to move its entire broadcast day toward a Top 40 format which debuted in September of 1957. Now Rick really began to perfect the art of promotion. He wrote slogans for the station and developed original contests. He also worked with the air staff to encourage personality radio. At this time, the mid fifties, this was pioneering stuff. With this revised "Top 40" format, Rick manipulated every second of the WINS sound for excitement. Promotion from within the station was more important than advertising outside the station. The WINS ratings began to rise.
At WINS Rick also met and worked with another legendary disc jockey; Murray "the K" Kaufman. In fact, it was Rick Sklar who was responsible for Murray Kaufman picking up the name "Murray the K". And, it was also Rick who coined the phrase "a blast from the past" as a way to introduce oldies on Murray's WINS show. Murray was a master of self promotion. He would do anything to get ratings from sleeping in a subway station to dressing up as Hamlet. Another important lesson for Rick.
But there were other, not so pleasant lessons. Rick learned about Payola at WINS. When the scandal hit the entire radio industry in 1959/60, Alan Freed was caught up in its web as were WINS Program Director Mel Leeds and several other staff members. Paying radio station personnel to play records, which had been almost common place, now became the stuff of Congressional investigations and jail terms. Fortunately Rick was never involved with Payola, but its disastrous consequences guided his decisions regarding record promoters for the rest of his career.
Rick's next stop was New York's WMGM in 1960. Now, as Program Director, he was responsible for transforming the station from the old WMGM format to a new "group vocals" format with the resurrected call letters WHN. Rick was not particularly happy at WHN so when Hal Neal, General Manager of WABC called with a "Director of Community Affairs" job, he took it.
While WABC was far from a ratings success at this time, it had become a Top 40 music radio station in December of 1960. WINS, WMCA and WHN were far ahead of it in the ratings but Rick could see the possibilities. His disc jockey friend Cousin Bruce Morrow (who had worked at WINS) was there as were other up and coming personalities like Dan Ingram and Scott Muni. Hal Neal had successfully orchestrated WABC's first "Principal of the Year" contest and there was some excitement beginning to gel.
Rick started at WABC in June of 1962. Even though he was technically Director of Community Affairs, he began producing promotions for the station. WABC had a shoe string promotion budget in those days so giving away expensive prizes was impossible. But, even so, Rick had learned the value of promotion so any contest was better than no contest. His early WABC contests included a "search for an heir to an international fortune" (which only amounted to about $400.) and a "secret agent" contest. He also began to produce jingles for the station based around the "Hot Line of Hits" theme. In 1963 he developed the Leonardo da Vinci Mona Lisa contest. And, he improved the "Principal of the Year" contest so that the 1963 version attracted 176 million votes. Due to the amazing success of these promotions (and an offer from WINS to return as ITS program director), Wally Schwartz the new WABC general manager, promoted Rick to WABC Program Director in late 1963.
When Rick Sklar took over as the full time program director, WABC was still the number three rock station in New York behind WINS and WMCA. The clever promotions he had developed had helped to elevate the station's visibility but there were still problems. First, it had a very long playlist. There were lots of records being played and the rotation was not particularly regimented. Second, WABC was bogged down by a lot of network commitments to broadcast non Top 40 music programming. This was eventually the toughest challenge because it was completely out of his hands. WABC, as the flagship radio station for ABC, had to carry shows like "Don McNeil's Breakfast Club", not exactly the kind of programming that appealed to a young Top 40 music audience.
There was little Rick could do about the network commitments. But, there was other work to be done. The ratings war had begun. He began to use many of the skills he had learned earlier at WINS. He knew that shorter playlists worked so he began to shrink the WABC playlist and carefully pick the songs that made it to this list. The music decisions were always based on record sales; that is, based on what people spent their money on, not what they said in a survey. He instituted "Music Meetings" every Tuesday morning where he and other staff members would determine what was to be added to the playlist. And, he never forgot the Payola lesson. Record promoters rarely were able to even get through to Rick much less influence music decisions. HE would pay for dinners and parties for the promoters. He never let them even give the appearance of providing any favors. This policy infuriated the record promoters but it guaranteed a music policy that was above reproach.
Since there was so much "clutter' in the format as a result of the network commitments, Rick did everything possible to make the remainder of the schedule as exciting as possible in its presentation. He moved the time of the newscasts to five minutes before the hour to get the station back to playing music at the top of the hour. WABC was also carrying other non music programming like Jets football so Rick had promos produced that were targeted to get the music audience back as quickly as possible once the game was over.
By 1964 the ratings at WABC were beginning to turn around. Then, in a stroke of genius, Rick Sklar recognized the Beatles phenomenon for its promotional value to WABC. He began to promote the station as W A "Beatle" C, had specific PAMS Beatles jingles recorded for the station and used all the resources of the ABC network to lock the station in step with the Beatles whenever they visited New York. The station ran a contest for listeners to design a medal to honor the Beatles. The resulting medallion was called "The Order of the All Americans" and was awarded to each of the Beatles live, over the air by Cousin Bruce Morrow. He even made exceptions to the music policy where new Beatles songs were immediately added to the WABC playlist without first having to demonstrate record sales. All of this was designed by Rick to cement the idea that WABC was THE Beatles radio station in New York.
In 1965 Rick further shortened the playlist which again had the affect of pushing the ratings higher. And, by now, the disc jockeys were becoming familiar voices. Rick continued to allow to them to develop their own styles and personalities. Rick never stifled this, but instead, encouraged it. Cousin Brucie moved into the early evening teen shift and began to achieve massive ratings as New York's most recognized disc jockey.
But, WMCA was still the number one Top 40 station in the New York City ratings. WABC was a strong number two, but was still plagued by all the network commitments. WINS which by now was third in the ratings switched to an all news format thus reducing the competition by one station. The ratings war was changing.
By 1966 Rick had built WABC into a winner still trying to close in on number one. Now focusing his competitive energy against WMCA, he staged a WABC Superman Fan Convention. Then in 1967 Rick initiated the "Musicpower" theme and jingles. He came up with the "Truck a Luck" promotion where a truck drove around New York giving out prizes to WABC listeners. Rick's strict music policy at WABC continued and now was even extended to song length. Any record over three and a half minutes was shortened. And, Rick continued to shrink the number of records on the playlist.
Finally in 1968 ABC shut down the old radio network so most of the required network programming that had so long handicapped WABC was gone. Rick commissioned a new jingle package to capitalize on finally being in control of the entire broadcast day. He built the station and its promotions around "The Most Music" theme. Now, the ratings really took off and WABC became number one. In 1969 WMCA began to abandon music first from 10:00 PM to 10:00 AM to go talk. By 1970 WMCA gave up Top 40 Music all together. Musicradio WABC was the undisputed ratings leader in New York radio. Rick had won. The ratings war was over.
As the early seventies progressed Rick kept Musicradio WABC on top. He had done some experimenting with WABC-FM in the late sixties with different types of rock music programming but now it was itself a separate radio station under the call letters WPLJ and began to develop its own identity under Program Director Larry Berger. While not yet a serious threat, other New York FM stations were cropping up. WOR-FM became WXLO (99X) in 1973. WPIX-FM was also playing Top 40 Music. FM was coming.
Still, in 1972 Rick guided WABC to yet another ratings high. Six million people a week were listening to the station. The very size of this audience now created logistical problems for WABC promotions. They could not do simple call in contests for fear of wiping out the entire phone system. Instead, Rick devised the $25,000 button contest in 1974. Rather than have thousands of calls jamming the New York phone system, button spotters were hired to comb the New York area streets for people wearing WABC buttons. His last big promotion for WABC was "The Big Ticket" where local newspapers carried an insert which contained a ticket from WABC with a number on it. If you heard your number announced over the air you could win prizes.
In March of 1977 Rick was promoted to vice president of programming for ABC's radio division. Glenn Morgan became the new WABC program director. In his new role Rick helped further develop the various ABC networks including a Talkradio format. He also had an inspiration to start an ABC Radio satellite music network called "Super Radio". The idea was to provide a Top 40 format to stations all around the country distributed by satellite. It was to include former WABC disc jockeys Dan Ingram, Ron Lundy and Bob Dayton. When WABC went talk in May of 1982 these former WABC disc jockeys were supposed to be on this satellite format starting the following July. Unfortunately ABC canceled the project just before its debut apparently due to an insufficient number of subscriber stations. It was an idea before its time. Today, there are many of these types of networks in existence. 1982 was just a little too early.
In 1984 Rick left ABC to start his own consulting firm known as "Sklar Communications" and he became a consultant to many stations around the country. In an ironic twist of fate, he even consulted for WMCA in New York for a while in the mid eighties. Numerous stations around the country began to benefit from Rick's now vast experience in radio programming.
Also in 1984, Rick wrote a book which chronicled his career in radio. This book, titled Rocking America has been read by most every music radio programmer around the country. And, I used it extensively in writing this web page.
Rick Sklar on the cover of "The Pulse of Radio Magazine"
June 24, 1991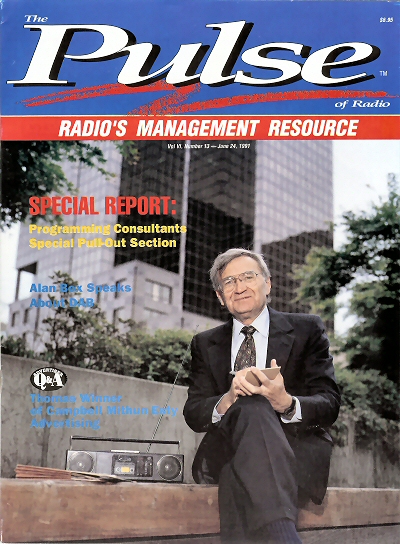 (courtesy Gary Berkowitz)
How does one sum up Rick Sklar's contributions to radio? He was a promotion genius who took what he learned in his early years and applied it with amazing precision to create an excitement level never seen before in music radio broadcasting. Musicradio WABC never missed a chance to capitalize on whatever was happening around it. Whether it was the Beatles, the 1965 Blackout, the arrival of a new disc jockey or distributing 14 million buttons around the New York area, Rick was the master promoter and absolutely on top of what was happening. Combine that with his skills as a radio programmer of everything from music to jingles to disc jockeys and you had a person of enormous talent who grasped the power of his medium and drove it to the pinnacle of success. It is a feat of radio that is not likely ever to be duplicated.
I only wish this story was continuing today. Rick was a marathon runner in his spare time and in June of 1992 he entered the hospital for minor foot surgery to repair a torn tendon in his left ankle. He never returned home. An unfortunate anesthesia complication took his life on June 22, 1992. He was 62 years old.
A piece of radio itself died that day. Those of us who ever loved Top 40 radio owe a debt of gratitude to Rick Sklar. From the music we loved to the disc jockeys we idolized, these radio stations helped shape our youth and our love for the medium of radio. Musicradio WABC and the other great AM Top 40 stations like it were the sound track of our lives; always there and always playing. Even if you never heard Musicradio WABC, its vast influence was heard on most every Top 40 radio station from that era. The radio world had lost one of its true pioneers and innovators.
Thanks Rick.

Below are some sound files which include interviews Rick gave about his years and experiences in radio. These files are in RealAudio (version 3) format. For information about this player, check the "WABC Musicradio Radio" section of this website.
Howard Cosell interviewed Rick Sklar on July 1, 1984 as part of his "Speaking of Everything" radio program (and this interview was broadcast on WABC after it had become a talk station). This is a very interesting interview for all kinds of reasons including that Howard worked at WABC during Rick's tenure. Howard asks Rick about the evolution of rock radio, how the WABC music meetings worked, the WABC "Mona Lisa Contest", the WABC DJ's, MTV, the growth of FM and a funny story about Muhammed Ali.

Mp3
In August of 1984, Rick was interviewed on WBAI in New York. This is an interesting interview because Rick talks about the various air personalities of WABC including Herb Oscar Anderson, Dan Ingram, Bruce Morrow and even the firings of Roby Yonge and Bob Dayton. He also talks about the "Principal of the Year Contest", the WABC Music Meetings and some anecdotes from The Beatles era at WABC. (35 mins.) (courtesy Michael Ackerman)

Mp3
Rick talks about starting in New York Radio at WINS, Alan Freed and Murray the K. Interview by Bob Lewis:

Mp3
Rick talks about first coming over to WABC:

Mp3
Rick talks about his relationship with Dan Ingram:

Mp3
Rick talks about his relationship with Bob "Bob-a-Loo" Lewis with introduction by Bruce Morrow:

Mp3
Rick talks about the demise of Musicradio WABC:

Mp3 (Part 1)

Mp3 (Part 2)

WABC Musicradio 77 Home Page