Ron's Last Airchecks
We present a special section on the WABC Website dedicated to Ron's final days on the air in New York. Beginning with his last Saturday show and culminating with his final show on September 18, 1997 we present the airchecks from Ron's last shows. If you are a WABC fan but were not in the New York area, here is your chance to hear Ron say goodbye.
For those who don't have Real Audio, we have included descriptions of the shows.
Thursday, September 18, 1997
Ron went out in style. Here is the aircheck of his last show. There were clips from his years at WABC, laughing and even some tears on his last WCBS-FM show.
8:53 AM. The "last" aircheck begins with current WCBS-FM and former WABC morning air personality Harry Harrison ending his show by playing several Musicradio WABC airchecks followed by a touching goodbye to Ron.
9:04 AM. Ron starts his final show with several songs followed by a lighthearted "This is Your Life" dedication narrated by WCBS-FM Program Director Joe McCoy which includes Ron's sidekick "Momma". Ron brings back another of his former CBS-FM sidekicks "Bubba". Herb Oscar Anderson (WABC morning air personality from 1960-1968) calls on the phone, DJ Don K. Reed from WCBS-FM makes an appearance with Lenny Cocco (from "The Chimes") on the telephone.

Mp3 (Part 1)
Gary Stevens (formerly of New York's WMCA and then one of the most successful radio station brokers in the business) telephones and Ron tells how he got his job at WABC.
10:02 AM. "Hello Luv" for the last time.....
Former WABC DJ and current WQEW/WBLS personality Chuck Leonard stops by and Ron tells a story of a woman toll collector friend of Chuck's taking Ron's ring off at a tollbooth at the George Washington Bridge. Chuck also makes reference to this very webpage (Thanks Chuck! E mail me!).
Ron gives us one last "ELVIS!!!!!"
10:17 AM. Dan Ingram appears starting with his "German" imitation of a hard nosed program director. As has been true for 37 years, Dan breaks Ron up so he can't continue. George Michael, former WABC evening personality and current host of NBC TV's "The George Michael Sports Machine", calls and talks about Ron's "Wile Child" days at WIL in St. Louis. Then, another hysterical story told by Dan and Ron about an Ingram comment about Ron's then new red Oldsmobile (which, again, illustrates the awesome power and reach of WABC in the late 60's).

Mp3 (Part 2)
WCBS-FM Program Director Joe McCoy (whose radio history includes WOR-FM, WXLO and WNBC) tells about Ron starting at WCBS-FM and how the station made room for him 13 1/2 years ago. Well known morning New York morning radio personality Jim Kerr (WPLJ, WPIX-FM, WYNY, WMXV and WQCD) calls to wish Ron well, air personality Ed Baer (formerly of WMCA, WYNY and WCCC; now of WHUD in Peekskill NY and sometimes WCBS-FM) calls and one of Ron's former WABC newspeople, Kathleen Maloney, stops by. Ron's "Willard" makes a brief appearance.
New York City Mayor Rudolph Guiliani calls to wish Ron "the best", New York's "Morning Mayor" Harry Harrison comes back on the air with Ron for another hug and goodbye, and Ron, Harry and Dan talk about The Beatles and Elvis. Herb Oscar Anderson becomes the subject of Ron's and Dan's jokes (as was always the case in the WABC days). Ron tells another Dan Ingram story from Dan's Dallas days at KBOX. Ron speaks with his CBS-FM replacement, Dan Daniel (formerly of WMCA, WHN, WYNY) about the WABC-WMCA competition during their Top 40 Radio heydays of the '60's.
11:22 AM. Cousin Brucie stops by. By now the WCBS-FM studio is filled with TV people, radio people and who knows how many others.

Mp3 (Part 3)
WCBS-FM air personality Norm N. Nite gives Ron a copy of his book (Rock On Almanac) filled with celebrity autographs. Jimmy Clanton ("Venus in Blue Jeans") calls on the phone and sings "That's What Friends are For" to Ron.
11:35 AM. WCBS-FM and WPIX-TV weatherman Irv Gikofsky (Mr. G.) says goodbye, WCBS air personalities Bill Brown ("tall, blonde and good lookin"), Bob Shannon ("America's DJ") and Bobby Jay give Ron hugs and good-byes.
11:40 AM. Harry Harrison gets choked up saying a final goodbye and he gives Ron a plaque with a picture taken when Ron first came to CBS-FM.
11:43 AM. WCBS-FM General Manager Maura Mason drops by.
11:55 AM. Ron says goodbye to as many CBS-FM staffers as he can and tells one last story about collect telephone calls to Joe McCoy.
12:02 PM. Joe McCoy gets choked up, says Ron will be back for the next WCBS-FM Radio Greats Reunion Weekend. Ron makes sure Dan Ingram is there in the studio. And then......
Ron thanks us, his listeners.
12:04 PM. Legendary radio air personality Ron Lundy plays "Bye Bye Love" (by The Everly Brothers) as his last song.
12:06 PM. WCBS-FM plays a medley of song outtakes to wish Ron goodbye followed by a WABC type "Chime".
Goodbye Luv :-(

Mp3 (Part 4)

After Ron's show, a retirement party was held for him at Ben Benson's restaurant. Bob Shannon of WCBS-FM contributed the following account:
"The party (at Ben Benson's restaurant, right down the street from CBS-FM) was great. Each department at the station gave him a going-away present.
"The Traffic (commercials) people had a t-shirt made up with a Xerox of his final Saturday commercial log on it. Programming (Joe McCoy and the jocks) gave him an antique radio. The Sales Department gave a huge, carved wooden pig (to give him a head-start on his farm).
"There was a produced video: "This Is Your Life, Ron Lundy" with an excerpt from "Midnight Cowboy", videos and stills of various station parties with Ron in attendance, and an interview with him about his career. Just about the entire station staff was there, as well as some people who used to work there.
"A very bittersweet occasion...much love, much fun but many tears. --"

Two days before his retirement, Ron was interviewed by Vince Santarelli, editor of the "Apple Bites" broadcasting newsletter. Vince asks Ron about his early days at WIL in St. Louis, his hiring at WABC, how he was switched to middays from overnights at WABC, and WCBS-FM. Vince also asks the question that was on everybody's lips in September of 1997... "Why are you retiring?"

Mp3

Pictures From Ron Lundy's Last Radio Show
These are pictures extracted from the story which ran on New York's Channel 2. A special thanks to Bill Epperhart for converting the TV pictures for use on this website! These pictures are a MUST see!!
Newspapers
Lundy Goes On Record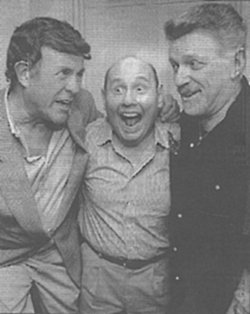 At Ron's retirement party after his show, from the left Bruce Morrow, Ron Lundy and Dan Ingram
By ROBERT DOMINGUEZ Daily News Staff Writer. This article with the above picture appeared on Friday, September 19, 1997.
Legendary disc jockey Ron Lundy will forever remember his last hours on radio as a blur.
"I was talking to so many people on the phone and in the studio that it was just a montage of voices and faces, all compiling together," Lundy said yesterday, surrounded by friends and colleagues during an emotional farewell party at a midtown restaurant.
"Three hours just wasn't long enough. It could have gone on to 6 o'clock tonight and I'd still be in there."
Lundy, 63, retired yesterday after 13 years of spinning oldies on the 9 a.m. to noon shift on WCBS-FM (101.1).
He previously was a morning fixture on WABC from 1965 until its final broadcast as a music station in 1982.
"New York is the best place in the world, and these are the best people on Earth — and that includes our listeners in New Jersey and Connecticut, too," said Lundy.
"But the time came to retire."
Lundy's last broadcast from the WCBS studio on W. 57th St. in Manhattan yesterday was filled with laughter, tears and wistful memories from such long-time colleagues as "Cousin" Bruce Morrow, Harry Harrison, Norm N. Nite and Dan Ingram, who all came on-air to pay tribute to Lundy.
Dan Daniel, a New York radio veteran who takes over Lundy's shift today, also joined in.
Even Jimmy Clanton, a recording artist from the '50s and one of Lundy's long-time friends, called the studio and serenaded Lundy with a few verses of "That's What Friends Are For."
At one point, ram director Joe McCoy, his voice cracking with emotion, told Lundy, "You made us better the day you walked into the radio station."
An emotional Lundy later addressed his WCBS co-workers with a heartfelt message: "All of you, I love you all. It's been a great run for me. I've said it many times — coming over here when I did was the best thing that ever happened in my life."
When music did play, it was songs with lyrics that fit the occasion — "Homeward Bound," "King of the Road," "Bye, Bye, Baby (Baby Goodbye)."
As his shift neared the end, Lundy — who led off his six-days-a-week show with his signature bellow "Hello, love!" — bid farewell to listeners with a simple: "Thank You. Goodbye, love!"
He then spun his final song — the Everly Brothers' "Bye Bye Love."
(With Richard Huff)
Saying 'Bye Bye' To a Lundy-ful World
By DAVID HINCKLEY Daily News Staff Writer. This article appeared on Wednesday, September 17, 1997.
Joe McCoy, program director of WCBS-FM (101.1), suggests "Bye Bye Love" might be appropriate as Ron Lundy's last record as a full-time disc jockey in New York.
But Lundy, who retires tomorrow after 32 years split between WABC and WCBS-FM, says he doesn't know yet just what the last record will be. He does figure that, at some point during his 9 a.m.-noon shift, he'll play "Satisfaction" by the Rolling Stones, the first record he played in New York back in 1965.
What he knows for sure is this: By sunset Friday, he'll be down in Mississippi, slapping his feet up on the porch railing "and probably thinking to myself, 'Where are all the disc jockeys?' "
One of the big ones will be gone. Lundy's booming "Hello, Love!" is a signature of New York radio, and some of the jocks who have been on the radio alongside him since WABC say it's not just a line.
"What you see is what you get with Ron," says Bruce Morrow. "He's one of the sweetest, gentlest people you'll ever meet. Not having Ron on the air, after all these years, is going to be a strange feeling."
"Ron doesn't only follow me on the radio, he's my friend," says Harry Harrison. "Years ago, I'd bring my kids in to work and they'd sit on Ron's lap. He's still Uncle Ron to them. He's a super deejay and a super guy."
"Ron's probably my best friend in the whole world," says Dan Ingram. "I've known him since I was the PD [program director] at WIL in St. Louis and I brought him up from Mississippi. Then we were both lucky enough to get to New York.
"Ron's always been an urban kind of Southern guy. I think he enjoyed New York for what he could get out of it, like most people do. But I think he'll be happy to get back down home. I think he'll enjoy the hell out of retirement."
Lundy says he intends to do just that. WCBS-FM, where he started in 1984, "has been the best 13 years of my life. I'm leaving just the way I want to."
Ron Lundy's Drawl Vanishes From NY
By Peter Goodman, staff writer for Long Island Newsday. This article appeared on Tuesday, September 16, 1997.
`I DON'T KNOW if anybody has been luckier than I have been in the business," exclaimed Ron Lundy in the sweet Tennessee drawl with which he's caressed New York's airwaves for 32 years. "I've worked with the best people, I've been in the same places so long, and I love the mail I get. You couldn't ask for better listeners."
But after noon on Thursday, Lundy's cheerful voice won't be heard over WCBS / 101.1 FM anymore - or any other radio station, for that matter. That trademark greeting, "Hello Luv, this is Ron Lundy in the greatest city in the world," which got a landmark cameo in the 1969 film "Midnight Cowboy" and was worked into Starship's 1985 hit "We Built This City," is going to become history.
Ron Lundy, 63, is about to retire. "I don't know what I'm going to do, but I'm not going to work anymore," Lundy said in a phone interview last week from his studio at WCBS. "I've got no plans. I'll just try to get settled on the farm, about 100 miles southeast of Memphis. I'll probably write a book or two."
Memphis is where it all began - the music and Lundy's own career, which just about parallels the life of rock and roll. "It was my music," he recalled. "We started listening to it around 1950, when I was just coming into high school. Guys like Dewey Phillips, all black music, rhythm and blues. There was the W. C. Handy Theater in Memphis. On Friday nights at midnight there was a midnight ramble, and all the kids would be there. It would be something, really - Laverne Baker, Ruth Brown, Louis Jordan."
Lundy had no idea he wanted to be a disc jockey, but he got a job as a gofer ("assistant record librarian, maybe not even that") at WHMM in Memphis. One night about two months after he started, a newly hired deejay got his work schedule mixed up and didn't show for the 7 to 11 p.m. shift, so Lundy was pressed into service. "I was on the air for one night, and this guy Hodding Carter [editor of the Delta Democrat-Times in Mississippi] owned a brand new radio station. He heard me on the radio, gave me a call that night and they gave me a job in Greenville [Miss.] the next day."
From WDDT in Greenville, Lundy's path took him to WLCS, Baton Rouge, La.; WIL, St. Louis; and then to New York - first at WABC from 1965 until it switched from music to talk in 1982, and then at oldies-format WCBS from 1984 until this coming Thursday. (His replacement will be another veteran, Dan Daniel of onetime rival WMCA.)
"I never liked anything the first time I heard it," Lundy asserted. "I'd have to hear it three or four times." Except the Beatles' "Help!" "At WIL in St. Louis, I played that twenty-five times in the first two hours the afternoon I got it." You can't do that on the radio anymore, what with playlists and formats and fragmented audiences and tremendous competition. "Those were different times, when I was coming up," Lundy said.
And now he's leaving, though he hasn't talked about it on the air. "I don't want to do that till the last day. I hope they haven't got much planned. It's going to be sad enough."

What happened leading up to the Last Show?
Throughout Ron's last week we presented his last shows leading up to that final show on Thursday:
Saturday, September 13:
Ron does his final Saturday show. As radio people know, weekend audiences are frequently different from weekday audiences. Different people are listening. Ron and WCBS-FM were quite aware of this on his final Saturday. Throughout this aircheck, Ron makes frequent mention of this different group of listeners and his appreciation of them.
The show is divided into two sections:
Part 1: CBS-FM DJ Mike Fitzgerald introduces Ron's last Saturday Show, Ron comments on his "handsome" newsman, the special "top of the hour last Saturday" intro, the trademark "Hello Love" and Ron working his usual magic moving in and out of the songs. Ron is not the sentimental type but he acknowledges that he is leaving and speaks about it.
At WABC Ron had an engineer but at CBS-FM he did all of his own boardwork. As our favorite WABC engineer Bill Epperhart pointed out, listen to the way he works the songs together. (20 mins.)

Mp3
Part 2: CBS-FM Program Director Joe McCoy calls Ron on the telephone (and comments about how Ron's retirement was "all over the internet...."), a Cousin Brucie promo and Dan Ingram announcing "Mr. Lundy has left the building" at the very end. This is something Dan has been doing at the end of Ron's Saturday show for several years now. Ron speaks of his former WABC colleagues as "He" (Dan Ingram) and "Him" (Cousin Brucie).
Ron plays "Everybody's Talkin" from the movie "Midnight Cowboy". WABC fans will remember that it was Ron's voice that was used in that movie when John Voight and Dustin Hoffman arrive in New York and are listening to a transistor radio on the bus. Ron does not specifically mention this here, but this song has special meaning to him for that reason.
Ron has a wonderful one on one connection with his audience. No one on radio is more likeable. He has a very special rhythm which always comes through when he is on the air.
Notice also the Series 27 PAMS jingles made so famous by WABC that are being used on CBS-FM. (15 mins.)

Mp3
Monday, September 15:
Ron did a fairly "normal" show. He made very little reference to his retirement. All of his usual trademarks are here... the "I've got a song for you", "Hello Love", "The Greatest City in The World" and his usual terrific job of working in and out of the songs. He does make reference to WABC's "Pick Hit of the Week" when he plays Petula Clark's "Downtown" and there is a hysterical bit here where he makes fun of "the artist formerly known as Prince".
As usual, Ron kids about Cousin Bruce, Dan Ingram and another WCBS-FM personality, Bill "Mr. Bill" Brown. All in all, this is a typical Ron Lundy show.... true personality radio from a true air personality. (10 mins.)

Mp3
Tuesday, September 16:
Again, Ron did a normal show. Ron does a great live spot for "Living Hair" where you can hear other people around him laughing in the background. Many of Ron's favorite voices are on this aircheck... his "old lady" bit, his Mr. Magoo imitation and a brief Wolfman Jack imitation. His famous "ELVIS!!!" intro is here as well as his alter ego "Momma" who he plays off like no one else ever could.
Ron makes a number of references to his pending departure but he certainly is not making a big deal of it.... yet. (12 mins.)

Mp3
Wednesday, September 17:
Today you can tell; we're getting close. Former Baseball National League President and Yankee TV/radio announcer Bill White calls Ron and talks about Ron's days in St. Louis (at WIL) and New York. As the show moves along Ron begins to wonder what will happen to "Momma" and he also spends more and more time thanking his listeners for what must be a huge amount of mail. Toward the end of the show he is joined by Cousin Bruce Morrow (who makes a comment about one of the newspaper articles reprinted above) and Ron then does a very funny bit with Brucie and a police friend, Detective Don Betts. When Ron talks about "across the street" he is referring to WABC.
The end is near.... Now you can tell. (13 mins.)

Mp3


Ron Lundy's Final Days on the Radio section

WABC Musicradio 77 Home Page